SvobodaToday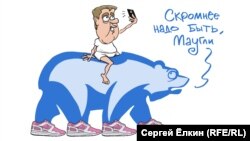 VISUAL REPORTS
Pussy Riot stole the stage five years ago, and marked the beginning of an era.
Russia's president has launched a military-patriotic movement known as the Young Army.
Rafael Lusvarghi, a Brazilian citizen currently serving a 13-year sentence in a Kyiv prison after fighting with Russia-backed separatists in Ukraine, is believed to be the first non-Russian convicted for crimes related to the war.
Georgia's military held medical evacuation drills as NATO officials began a two-day visit to discuss closer cooperation.
Dozens of people rallied in the Georgian capital Tbilisi to protest what they fear is an attempt by the government to shut down a popular television channel.
OTHER NEWS
German Foreign Minister Sigmar Gabriel has described a military buildup by Russia along its borders with the Baltic states as "completely irrational" and has vowed to keep German forces in the region as long as necessary.
European Union ambassadors have decided to prolong asset freezes imposed by Brussels against Ukraine's former President Viktor Yanukovych and 14 of his associates.
Russian Prime Minister Dmitry Medvedev has long styled himself as a liberal-leaning lawyer who loathes corruption, but opposition leader Aleksei Navalny claims he's one of Russia's richest men and one of its "most corrupt" bureaucrats.
Moscow authorities have again removed an improvised memorial near the Kremlin where Russian opposition politician Boris Nemtsov was gunned down two years ago.
Authorities in Kyiv say a methane gas explosion and tunnel collapse at an underground coal mine in western Ukraine has killed eight workers.
Ukraine's national anticorruption bureau is investigating State Fiscal Service chief Roman Nasirov on suspicion of deferring tax debts associated with enterprises linked to fugitive MP Oleksandr Onishchenko. Nasirov was reportedly taken to a hospital with a heart attack after the announcement was published. (Ukrainian Service)
A spokesperson for a company controlled by billionaire Rinat Akhmetov, Ukraine's richest man, said on March 2 that the seizure of corporate assets by Russia-backed separatists in the eastern part of the country is "unacceptable."
Ilmi Umerov, a Crimean Tatar leader who has criticized Russia's annexation of the Black Sea peninsula, is expected to go on trial within weeks.
A teenager charged with attacking shoppers at a mall in Minsk and killing one woman with a chainsaw has been sentenced to 15 years in prison, the maximum term for a minor in Belarus.
Mehman Huseynov, an Azerbaijani blogger known for reports seeking to document corruption, has been convicted of libel and sentenced to two years in prison.
Hundreds of people rallied in the Georgian capital for a second day to protest a court ruling handing a popular independent television station to an owner with alleged ties to the government.
Serbia will hold a presidential election on April 2, with Prime Minister Aleksandar Vucic seen as a clear favorite against an opposition in disarray.
An Uzbek court has upheld an additional five-year prison sentence for Agzam Farmonov, a long-jailed human rights activist whose 2006 extortion conviction is widely seen as politically motivated.
In a sign of increasing economic distress, numerous ministries, government departments and state corporations in Turkmenistan have summarily dismissed a wave of employees of retirement age. Several state organizations have also reportedly assigned employees unpaid leave and reduced their working hours in recent months. (Turkmen Service)
According to a Levada Center poll, 54 percent of respondents are unprepared to see a woman as Russia's leader in the next 10-15 years and 30 percent disapprove of women in politics generally, increases from 49 percent and 20 percent in 2016, respectively, that sociologists attribute to a state campaign to promote conservative values. (in Russian, Current Time TV)
Promient Kyiv-based journalist and political commentator Matvey Ganapolsky shared his views on the war in Ukraine with RFE/RL, saying that Donbas is "a bargaining chip in the great game" between Russian and the U.S., and that the conflict, which has claimed thousands of lives and cost half a billion dollars a day, is far wider than a "war." (over 30k views on Russian Service website)
About Svoboda Today
Svoboda Today is a quick, daily guide to developments in Russia, Ukraine, and the region, delivered from our bureaus direct to your inbox. Sign up for Svoboda Today daily email newsletter here.