SvobodaToday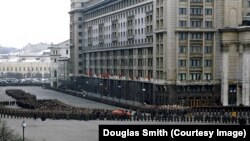 From a balcony with a view to the Kremlin, U.S. Army Major Martin Manhoff shot the only known independent footage of Stalin's funeral.
VISUAL REPORTS
Police in Kyiv moved in to dismantle a protest camp near the national parliament building on March 3, detaining some 100 protesters amid clashes. (Ukrainian Service)
Twenty-two-year-old Vadim Lipinski, who grew up disabled in an orphanage in Belarus, is about to race for his country at the Paralympics in South Korea.
Alema Dolamic says her sister married a man she met on Facebook and left Bosnia-Herzegovina to join him in Syria, bringing her daughter with her. Four years later, Dolamic wants the Bosnian authorities to help bring her sister and her three children home.
Slovakia has been plunged into political crisis by the killing of an investigative journalist who wrote about links between the government and Italy's notorious 'Ndrangheta mafia group.
OTHER NEWS
RFE/RL's Russian election blog reports today on allegations surrounding the authenticity of President Vladimir Putin's graduate dissertation. Olga Litvinenko, the estranged and exiled daughter of a fabulously wealthy rector of one of Russia's oldest technical universities -- and Vladimir Putin's alma mater -- has come out with further details to bolster claims she has previously made that her father, St. Petersburg Mining Institute rector Vladimir Litvinenko, "personally wrote this thesis for Putin."
In comments made in an NBC News interview partially aired on March 4, President Vladimir Putin said that the Russian citizens indicted by the United States for election meddling didn't act on behalf of his government, and insisted that Moscow will "never" extradite any of them.
Russian President Vladimir Putin said he would reverse the collapse of the Soviet Union if he had a chance to change Russian history, Russian news agencies reported.
While the Russian government's expenditures on its military campaign in Syria are classified, an analysis by the Yabloko party estimates that Russia spent between $3 - $4.2 billion as of March this year. An early analysis by Bloomberg estimated that Russia spent $3.28 million per day in 2015. (Russian Service)
Speaking to Russian media, Kremlin advisor German Klimenko said Russia is "technically ready" to be disconnected from the worldwide web. Under orders from President Vladimir Putin, a segment of the internet has been developed and is functioning, allowing all state institutions and officials to operate behind a "Chinese firewall." (in Russian, Current Time TV)
Icarus, a film about doping in Russia, has won the Oscar for best documentary. U.S. director Bryan Fogel's film was made with the assistance of Grigory Rodchenkov, the former Moscow anti-doping laboratory director who now lives in the United States.
The Ukrainian military has accused Russia-backed separatists in the eastern Donbas region of violating a new cease-fire agreement shortly after it went into force.
EU ministers have prolonged sanctions against former Ukrainian President Viktor Yanukovych and 12 of his associates by another year, but lifted restrictive measures against former Justice Minister Olena Lukash and businessman Serhiy Klyuyev.
Ukrainian President Petro Poroshenko says gas deliveries to Ukraine have "stabilized" after Russian gas giant Gazprom halted supplies to the country earlier this week.
Authorities in Russia-annexed Crimea are preparing to sue Ukraine's government over the energy blockade of the peninsula, which began in December 2015. RFE/RL's Crimea Realities website reports that they are contacting organizations and private citizens affected by the blockade to persuade them to file the suit with the European Court of Human Rights on human rights grounds. The peninsula's Russia-backed leadership is not recognized under international law. (Ukrainian Service)
About Svoboda Today
Svoboda Today is a quick, daily guide to developments in Russia, Ukraine, and the region, delivered from our bureaus direct to your inbox. Sign up for Svoboda Today daily email newsletter here.