SvobodaToday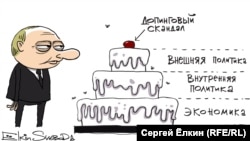 VIDEO REPORTS
Savchenko Supporters Continue To Demonstrate Across Ukraine
Amidst continuing protests in several Ukrainian cities in support of pilot Nadia Savchenko, a Russian flag belonging to the consulate in Lviv was set alight, and the Russian embassy in Kyiv was pelted with eggs.
Macedonia Shuts Door To Migrants And Refugees
The Macedonian side of the border zone with Greece remained empty on March 9, after the government in Skopje closed entry to any refugees and migrants.
Condoleezza Rice Calls On Ukrainians To Strengthen Civil Society
Appearing at an event sponsored by Ukraine's Viktor Pinchuk Fund, former U.S. Secretary of State Condoleezza Rice told an audience in Kyiv that "the strongest foundation of democracy is not the government but its citizens." (Ukrainian Service)
When a 24 year-old Dutch textiles student saw Greek beaches littered with rubber boats disused by migrants, she saw an opportunity to help, and with a designer friend, now teaches new arrivals to turn inflatable dinghies into cargo bags they can use during their journey.
NEWS HIGHLIGHTS
Savchenko Ends Dry Hunger Strike
The pilot's lawyer, Mark Feigin, said on his Twitter page on March 10 that his client had started taking fluids after a request by Ukrainian President Petro Poroshenko.
The Interpreter's Pierre Vaux dissects the prosecution's case against Ukrainian pilot Nadia Savchenko, concluding that she shouldn't be on trial for a crime, that might not be a crime, that she could not have committed.
EU Extends Asset Freezes Over Crimea Annexation
EU ambassadors on March 9 extended asset freezes and visa bans on 146 people and 37 entities identified as being associated with Russian aggression in Ukraine, including Deputy Prime Minister Dmitry Rogozin, presidential adviser Sergei Glazyev, and Kremlin propagandist Dmitry Kiselyov.
Poroshenko And Yatsenyuk Teams Compete For PM Post
Ukrainian experts are skeptical about the rumored appointment of Finance Minister Natalie Jaresko to replace Prime Minister Arseniy Yatsenyuk, saying they come from the same system, even if they are aligned with different "clans," and that a change of rules, rather than personalities, is paramount. (In Ukrainian)
Russian Activists, Western Journalists Attacked Near Chechnya
The Committee to Prevent Torture said the two journalists and two activists were hospitalized after masked men with knives and clubs attacked them as they sought to enter Chechnya from neighboring Ingushetia.
Russia Seeks To Criminalize Bitcoin Commerce
Russia's Ministry of Finance is seeking prison sentences for producers of Bitcoins and banks that handle them on grounds that Russian citizens and legal entities use the currency to launder money. (Current Time TV)
State Continues To Smother Russian Private Sector
The state's share of Russia's economy continues to grow and stifle competition, increasing 1.5 times over the last ten years. Analysts say a more robust private sector could have helped curb the ruble's inflation even in the event of another devaluation. (In Russian)
Ukraine's Economic Inefficiency More Harmful Than War
Leading Ukrainian economist Andriy Novak says mismanagement more than war is hurting the country's export potential, which is currently limited to the export of raw materials and semi-finished products. (In Ukrainian)
Russian Patriarch Asked To Repent Before Greek Catholics
Russian-French historian Antoine Arjakovsky explained a recent letter, issued by a group of Orthodox priests on the 70th anniversary of a synod subordinating the Ukrainian Greek Catholic church to the Russian Patriarchy, that calls on Russian Orthodox Patriarch Kirill to repent for his predecessor's actions. (In Russian)
Most Read/Russia: The Savchenko Trial
Various reporting and commentary, including a critique of the trial by lawyer Mark Feigin, who said if she was accused of war crimes, she should have been tried in a military court. (over 130k on Russian Service website)
About Svoboda Today
Svoboda Today is a quick, daily guide to developments in Russia, Ukraine, and the region, delivered from our bureaus direct to your inbox. Sign up for Svoboda Today daily email newsletter here.