SvobodaToday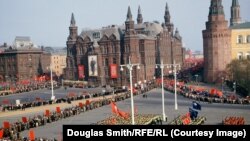 INFOGRAPHIC
VISUAL REPORTS
Russia's newly constituted national guard may be about to get more power.
Protesters in Belarus took to the streets of several cities on March 15 for the latest in a series of demonstrations against a tax on the unemployed.
The Russian-American sculptor Ernst Neizvestny designed three memorials to the millions of victims of the gulag system of Soviet labor camps, but only one was ever realized.
OTHER NEWS
The Russian State Duma has approved legislation that would strengthen restrictions on live broadcasts of open trials on television, radio, and the Internet.
The United States has denounced a move by Russia to allow soldiers from the breakaway Georgian region of South Ossetia to serve in the Russian armed forces.
Ukrainian authorities have announced the suspension of all cargo traffic with areas held by Russia-backed separatists in the eastern part of the country, prompting Russia to warn of a potential "humanitarian catastrophe."
Kremlin spokesman Dmitry Peskov has reportedly denied that the Kremlin "officially" received a letter from Ukrainian President Viktor Yanukovych requesting that troops be sent to Ukraine in 2014. The letter in question was read before the UN Security Council by Russian Permanent Representative Vitaly Churkin in March, 2014. (in Russian, Current Time TV)
U.S. authorities have indicted two Russian intelligence officers for the massive 2014 hack against Yahoo, one of whom was arrested earlier in Moscow as part a widening scandal involving Russia's top security agency.
Preet Bharara's supporters may be criticizing his firing as a federal prosecutor, but it is unlikely that any tears are being shed in Moscow.
In February 2014, when masked Russian troops without insignia seized control of the Crimean Peninsula from Ukraine, Simferopol-based journalist Mykola Semena grabbed his camera to photograph the invasion that was being denied by the Kremlin.
The editor in chief of Russia's Regnum news agency, Belarusian citizen Yuriy Baranchyk, has been detained in Moscow on Minsk's request.
The president of the European Bank for Reconstruction and Development was set to discuss "ways of increasing EBRD engagement with Uzbekistan" in a three-day visit to the Central Asian nation.
Prominent human rights lawyer Buzurgmehr Yorov, who is serving a 23-year prison term, has been sentenced to an additional two years behind bars.
As part of a search for foreign investment, Turkmenistan has invited companies from Qatar to partner in major transport and logistics projects, Turkmenistan state media reports. (In Russian, Turkmen Service)
Far-right Serbian presidential candidate Vojislav Seselj has announced a visit to Crimea, together with an international parliamentary delegation, to mark the anniversary of the annexed peninsula's controversial referendum on March 19-21, 2014. But some Serbian analysts says the visit is intended to appeal to pro-Russian audiences at home ahead of Serbia's April 2 presidential elections. (Ukrainian Service)
A second wave of security officials is coming to power in Russia, replacing those who occupied high office early in Vladimir Putin's presidency, and highlighting the fact that the lack of lustration inside the country following the collapse of the USSR has allowed many KGB officers to enter politics and lead successful careers. (in Russian, Current Time TV)
The international group InformNapalm has documented evidence that 42 types of equipment currently present in Ukraine's eastern Donbas region were neither made in nor delivered to Ukraine. In addition, representative Michael Makaruk told RFE/RL, "More than 70 military units from Russia arrived in Ukraine, with deployments ranging "from the Kuril Islands, the Northern fleet, and ending with military units stationed in the occupied territories of Georgia and in Transnistria." (over 55k views on Russian Service website)
About Svoboda Today
Svoboda Today is a quick, daily guide to developments in Russia, Ukraine, and the region, delivered from our bureaus direct to your inbox. Sign up for Svoboda Today daily email newsletter here.