SvobodaToday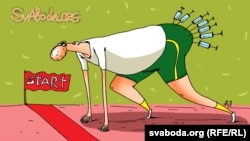 VIDEO REPORTS
Ukraine's President Calls EU Visa Liberalization A 'Win-Win'
Ukrainian President Petro Poroshenko told RFE/RL in Brussels that Kyiv has completed the reforms needed to move forward on implementing visa-free travel to the European Union.
Russia-Backed Separatists Issue Passports In Donetsk
The first passports were handed out at a public event on March 16, and are reportedly recognized by Russia and the Georgian breakaway region of South Ossetia.
Riot Police Put Down Roma Protest in Tula Region
Riot police assaulted residents in the Tula region's Plekhanovo village who are protesting the destruction of the local gas pipeline. Authorities claim the residents, mostly Roma, are using the line illegally, but say they are disconnecting it because of a recent accident. (Russian Service)
A new law further restricting public demonstrations also applies to groupings of automobiles, designating gatherings of more than two as "rallies" that must be coordinated with authorities. Some say the ban seeks to prevent a Russian version of the 2014 "automaidan" that supported the Euromaidan in Ukraine. (Current Time TV)
Two years after the release of Maria Alyokhina and Nadezhda Tolokonnikova from jail, Alyokhina tells RFE/RL's Russian Service she has plans of her own.
NEWS HIGHLIGHTS
German Minister Aims To Lift Russia Sanctions
German Economy Minister Sigmar Gabriel has called on the European Union to create conditions by this summer to lift sanctions imposed against Russia over the conflict in Ukraine.
Russia Blacklists US-Backed NDI
Russia's Justice Ministry added the National Democratic Institute (NDI) to a blacklist of "undesirable organizations" on March 17.
Ukraine Provides Savchenko Sanction List To EU
Ukraine has identified nearly 50 people it considers responsible for the "illegal detention and falsified trial" of Ukrainian military pilot Nadia Savchenko, and has urged the European Union to impose sanctions against them.
Russian Rights Activist Pays Price For Confronting Kadyrov
RFE/RL profiles the work of Igor Kalyapin, a human rights activist dedicated to investigating abuses in Chechnya, who was beaten by a group of more than a dozen men outside a Grozny hotel late on March 16.
Ukraine Parliament Turns Attention To Prosecutor General
Ukraine's political crisis continues, as the parliament announced that it will consider whether to demand the resignation of Prosecutor-General Viktor Shokin on March 29. (In Ukrainian)
Ukraine Bans More Russian TV Channels
Ukraine suspended 14 more Russian TV channels on March 17, bringing the total number banned to 42, although they remain available over the internet and via satellite. Media experts say the ban limits the influence of Russian propaganda, and motivates local TV stations to produce more content. (In Ukrainian)
'Power Of Siberia' Pipeline A Boon For Putin
Carnegie Endowment/Moscow expert Aleksandr Gabyev spoke with RFE/RL about a joint project of Russia's Gazprom and China's CNPC to build a gas pipeline from Yakutia to Asia Pacific countries, for which China gave Russia a $2 billion loan in what could be a boon for President Putin in an election year. (In Russian)
Two Years Of Unfulfilled Promises in Crimea
Aside from lowering the retirement age for women, some commentators say Russia has failed to deliver on numerous promises to the residents of Crimea, including legalizing the Ukrainian and Tatar languages, instituting regular civilian flights, repairing roads, improving the water supply, and completing a bridge across the Kerch strait. (In Ukrainian)
Press Release: In Azerbaijan, No Pardon For Ismayilova
About Svoboda Today
Svoboda Today is a quick, daily guide to developments in Russia, Ukraine, and the region, delivered from our bureaus direct to your inbox. Sign up for Svoboda Today daily email newsletter here.