SvobodaToday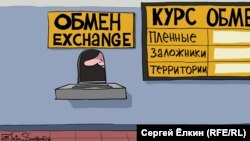 VIDEO REPORTS
Daily Vertical: Shamelessly Exploiting A Tragedy
Chalk And Paint Mark Response To Terror Attacks
In the center of Brussels, residents and tourists have begun to memorialize yesterday's attacks, using chalk and paint to leave messages of support and solidarity on the sidewalk. (Current Time TV)
Savchenko Sings Defiance At Russian Judge
Ukrainian pilot Nadia Savchenko belted out a patriotic Ukrainian folk song, briefly interrupting proceedings, as the judge in her trial delivered a sentence of 22 years in prison for "complicity" in the killings of two Russian journalists in June 2014.
Journalist Gongadze Buried, Finally, In Kyiv
Relatives of Heorhiy Gongadze say questions must still be answered about who ordered his murder and why.
Azeri Political Prisoners Find Joy And Sorrow At Home
Fourteen political prisoners, pardoned on March 17, returned to their homes, in some cases to confront the loss of loved ones who died while they were behind bars. Khadija Ismayilova, Intigam Aliyev, and Ilgar Mamedov remain in prison. (Current Time TV)
NEWS HIGHLIGHTS
Russian Officials Fault West's 'Double Standards' For Brussels Attacks
Aleksei Pushkov, chairman of the Duma's international affairs committee, tweeted that while NATO "fights the imaginary 'Russian threat' and sends troops to Latvia, people are being blown up in Brussels right under [its] nose."
Alexievich Says Savchenko Case 'Insanity On Governmental Level'
Responding to the Savchenko verdict, Belarusian Nobel Prize Laureate Svetlana Alexievich told RFE/RL that Moscow is intoxicated by its sense of power and impunity, and that it is Ukraine, not Savchenko, that has been put on trial. (In Belarusian)
Belarusian Denies Links To Brussels Attacks
At least two pro-Kremlin media outlets issued reports on March 22 claiming that three former residents of Belarus are suspected of involvement in the deadly attacks in Brussels.
Separatists Shelled Ukrainian Positions 44 Times In Last 24 Hours
Ahead of today's meeting in Minsk of the trilateral contact group on the Donbas, the Ukrainian army reported taking fire from separatists using mortars, tanks and cannons. Both sides accuse each other of violating the ceasefire agreement. (In Ukrainian)
Political Crisis Boosts Tymoshenko's Approval Rating
Political commentator Nazariy Zanoz says that Yulia Tymoshenko's high approval rating reflects her ability to turn emotion and populism to her advantage, but that she's helped by the failure of Ukraine's president and prime minister to demonstrate a commitment to reform. (In Ukrainian)
Russians Resist Resurgent Church
The Russian monitoring group Sova reports that aggressive campaigns by the Orthodox church to acquire land, build new churches and assert itself in politics have engendered anti-Church sentiment in Russia (Current Time TV)
Russian Pension System Headed For Collapse
Prominent Russian economist and former minister Eugeny Gontmacher told RFE/RL that Russia's pension fund risks collapse as a result of massive expenditures and government incompetence, which deserves the grade of a "D" or an "F." (In Russian)
MOST READ/Russia: Social Media Mock Official Reaction To Brussels Attacks
Social media has been flooded with comments that Russian officials have demonstrated "a total degradation of the state" and "a feast of gloating" after they characterized the Brussels attacks as evidence of western double-standards and Russophobia. (over 108K on Russian Service website)
About Svoboda Today
Svoboda Today is a quick, daily guide to developments in Russia, Ukraine, and the region, delivered from our bureaus direct to your inbox. Sign up for Svoboda Today daily email newsletter here.