SvobodaToday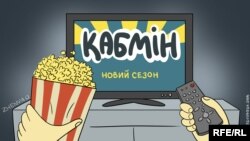 VIDEO REPORTS
The Daily Vertical: Bastrykin's Repression Manifesto
Vladimir Putin's top cop Aleksandr Bastrykin, the man who has spearheaded Russia's crackdown on basic freedoms over the last four years, says repression has not gone far enough.
Russia-Led Alliance Conducts Spy Games In Tajikistan
For the first time, military intelligence units from five member states of the Collective Security Treaty Organization gathered in Tajikistan to show off their spyware and share intelligence-gathering methods.
Moscow Traffic Vigilantes Challenge Outlaw Drivers
With Moscow drivers terrorizing sidewalks and tram lines to beat the city's notorious morning traffic, activists are stepping in, using their bodies and online tools to stop the chaos.
Stand up for your rights. Or lie down. Or get naked, when more than words are needed to be heard.
NEWS HIGHLIGHTS
Russia Suspends Crimean Tatar Assembly For 'Extremist Activities'
Russian authorities in the annexed peninsula announced on April 18 that the Mejlis, the self-governing Crimean Tatar body legalized by the Ukrainian government in 1999, has been included in a list of civic and religious organizations banned for extremism.
Russia's constitutional court ruled on April 19 that an instruction by the European Court of Human Rights to grant prisoners voting rights contravenes the country's constitution, putting into practice a Russian law passed in December 2015 that authorizes the court to ignore ECHR decisions. (In Russian/Current Time TV)
Ukraine Court Sentences Two Russians On Terrorism Charges
A Ukrainian court has sentenced two Russian citizens to 14 years in prison each on charges of fighting alongside Russia-backed separatists in eastern Ukraine, opening the door for a potential prisoner exchange with Moscow.
Appeal Could Threaten Savchenko Prisoner Exchange
Lawyers for Yevgeny Yerofeyev, one of two Russian citizens sentenced to 14 years in prison by a Ukrainian court on April 18, plan to appeal the conviction, potentially complicating an exchange for imprisoned Ukrainian pilot Nadia Savchenko, her attorney says. (Ukrainian Service)
Effects Of Doha On Russia Could Be Grave
Russian financial analyst Mikhail Krutikhin says that if oil prices average $35 per barrel this year, Russia's reserve fund and its national welfare fund will soon be depleted. (Russian Service)
Consumption Patterns Show Economic Crisis Hitting Russia's Middle Class
A presidential body has found that over the last year 56 percent of Russians, including an increasing number of middle-class consumers, stopped spending on certain foods to save money. (In Russian/Current Time TV)
Latvia Puts Price On Cost Of 'Soviet Occupation'
A commission tasked with assessing the damage to Latvia from the decades-long "Soviet Occupation" has assessed the demographic and environmental damage to the country at 185 billion euros. (In Russian/Current Time TV)
COMMENTARY: Panic Driving Bastrykin's New Tactics
Opposition politician Vladimir Milov and lawyer Elena Lukyanova suggest that investigative chief Alexander Bastrykin's calls for measures that violate Russia's own constitution are a sign that "the system is beginning to totter and the power cannot hold."
MOST-READ/RUSSIA: 'Putin Is Not A Tsar, He Is A Chinese Authoritarian Emperor'
Igor Artyomov, a Russian nationalist activist and head of the banned All-Nation Russian Union who resides in the U.S., says that Russian President Vladimir Putin is trying to restore the administrative structure of the Soviet Union by means of the army, police, bureaucracy, and intelligence services, and replace communist ideology with state patriotism. (over 50K on Russian Service website)
About Svoboda Today
Svoboda Today is a quick, daily guide to developments in Russia, Ukraine, and the region, delivered from our bureaus direct to your inbox. Sign up for Svoboda Today daily email newsletter here.