SvobodaToday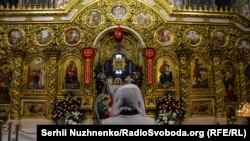 PHOTOGALLERY
VIDEO REPORTS
The Daily Vertical: The Ghosts Of December 2011
Russia's opposition is divided, ineffectual, and largely irrelevant. And yet the Kremlin and its proxies continue to attack it ruthlessly. Why?
Putin Sells Everything From Coffee To Carpets
Russian entrepreneurs are capitalizing on the cult of personality surrounding President Vladimir Putin, selling his image while scorning those most closely associated with the West.
Chisinau Jewish Cemetery Gets Help
Most of Moldova's 50 Jewish cemeteries are in a state of extreme neglect, but volunteers from Russia, Ukraine, the United States, and Moldova are tidying up one sprawling burial place in Chisinau. (In Russian/Current Time TV)
40-Year-Old Uzbek Gymnast Headed For Seventh Olympics
Uzbek-born gymnast Oksana Chusovitina, who won her first Olympic medal long before her rivals were born, will compete in the 2016 Summer Olympics in Rio.
NEWS HIGHLIGHTS
As Kazakh Protests Spread, President Warns Of Ukraine-Like Instability
Kazakh President Nursultan Nazarbaev has evoked the Ukraine conflict as protests continued over the Central Asian government's decision to privatize large tracts of state-owned agricultural land.
Ukraine Accuses Separatists Of Breaking Easter Cease-Fire
The Ukrainian government reports one soldier killed and several troops wounded in Ukraine's east, despite an agreement by Russia-backed separatists and Kyiv to observe a cease-fire with the start of the Orthodox Easter and May Day holidays.
Yerevan, Baku Accuse Each Other Of Artillery Attacks
Tensions between Armenia and Azerbaijan continue to grow over Nagorno-Karabakh, with both Baku and Yerevan accusing each other of launching artillery barrages against the other.
European Union Calls South Ossetian Land Grab Illegal
New boundaries have been marked along the dividing line with Georgia's Russian-occupied breakaway region of South Ossetia, cutting off people on the Georgian side from their farmland, orchards, and neighbors.
COMMENTARY: It's A Cease-Fire, Not A Victory
Kyiv-based journalist Savik Shuster, who threatened a hunger strike when his work permit was temporarily revoked last week, says that the freedom of speech in Ukraine began to decline following the May 2014 presidential election, and the siege of Ukraine's eastern regions of Ilovaysk and Debaltsevo by Russia-backed separatists, information about which the government sought to suppress. (In Russian)
COMMENTARY: How Kazakhstan Resembles Ukraine
Political commentator Vitaliy Portnikov believes that protests in Kazakhstan are a sign of regime erosion reflecting public distrust in government, and that protesters fear that authorities could "give" the country to China. (In Ukrainian)
MOST READ/RUSSIA: 'My Father Was Preparing A Coup'
In an interview with RFE/RL Elena Rokhlina, daughter of Soviet Army General Lev Rokhlin, said her father was eliminated in 1998 because of his attempt to stage a coup "for the people," in response to the massive theft he witnessed among members of the State Duma. (over 50K on Russian Service website)
PHOTOGALLERY: Military Mobilizes In Odesa Ahead Of May 2 Anniversary
In anticipation of possible violence, Odesa is under heavy military presence on the second anniversary of clashes that ensued between pro- and anti-Maidan demonstrators after dozens of people died during a fire at the city's Trade Unions office building. (Ukrainian Service)
About Svoboda Today
Svoboda Today is a quick, daily guide to developments in Russia, Ukraine, and the region, delivered from our bureaus direct to your inbox. Sign up for Svoboda Today daily email newsletter here.