SvobodaToday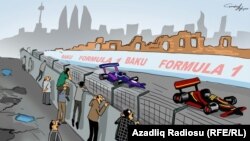 VIDEO REPORTS
Ukrainian students were determined to hold their graduation ball in their old school building -- even though it was blasted to pieces in fighting.
Volunteer Fighters In Odesa Demand Recognition
Volunteer Ukrainian fighters in Odesa clashed with local authorities and broke down a door of a government building demanding they be granted the status and benefits accorded to regular combatants. (In Russian/Current Time TV)
Germany Frets Over Reported Georgian Crime Wave
Georgia's efforts to secure its citizens visa-free travel to the European Union have been hampered by a spate of stories in the German media about a "Georgian crime wave."
President Xi Arrives In Belgrade
Serbia has welcomed Chinese President Xi Jinping to Belgrade at a time when China is increasing its economic influence in the Balkan country.
NEWS HIGHLIGHTS
Formula One Race Offers Azerbaijanis Few Rewards
Azerbaijan is hosting its first Formula One race, the latest bid in a multi-year effort by the government to showcase the former Soviet republic, but for many in Baku it offers few rewards.
Alexievich Pessimistic On Politics In Post-Soviet Space
Belarus Nobel Laureate Svetlana Alexievich told a Washington audience that the prospects for steering Belarus and Russia away from authoritarianism in the near future are dim, but that those who desire political change should persevere.
Savchenko Calls On PACE To Demonstrate Consistent Support
In remarks before the Parliamentary Assembly of the Council of Europe on June 20, Ukrainian pilot and MP Nadia Savchenko said, "We pay for the peace of Europe and for the peace of our country with the blood and lives of our people. I ask you to support us with a firm, consistent and clear position." (In Ukrainian)
Greenpeace Asks FIFA To Stop Deforestation In Moscow Park
Activists are calling on the world soccer authority to demand that Moscow stop cutting down Luzhniki park's 60-years old trees in preparation for hosting the 2018 FIFA World Cup. (In Russian)
Russian Return To Breakaway Abkhazia Brings Hope And Concern
The dispute over foreign ownership in a lush region once known as the Soviet Riviera has highlighted Abkhazia's predicament, shunned by most of the world and heavily reliant on Russia.
Speaking about his films with RFE/RL, Hajo Seppelt, the German journalist behind four documentaries on doping in Russian sports, who has been harassed by Russian journalists because of his work, said,"Russia is not trying to work on its mistakes, but instead is trying to convince its people that they are surrounded by enemies and that [the doping scandal] is the result of [enemy] machinations." (In Russia)
Doping Scandal Blows Kazakhstan's Cover
Doping revelations in Kazakhstan cast a spotlight on the country's efforts to develop national Olympic champions, even when they are not originally from Kazakhstan.
Russian Trolls In Poland Turn Attitudes Against Ukraine
Several Polish analysts told RFE/RL that an unprecedented wave of propaganda spread through Poland in 2013 in conjunction with Ukraine's Euromaidan protests, with the aim of convincing Poles that Ukrainians are their bitter enemies. (In Ukrainian)
COMMENTARY: Azerbaijan Imprisoned Me. Pharrell Williams And Others Should Stop Helping My Jailers (Khadija Ismayilova, The Washington Post)
COMMENTARY: Tug Of War Over Nikola Tesla's Ashes
MOST READ/RUSSIA: 'It Was a Murder'
Denis Karagodin, the great grandson of a peasant killed under Soviet leader Josef Stalin during mass collectivization in the late 1930s, is investigating the circumstances of his death, and demanding that the Russian Security Service turn over to him his great grandfather's remains and disclose the names of those who killed him. (over 160K views on Russian Service website)
About Svoboda Today
Svoboda Today is a quick, daily guide to developments in Russia, Ukraine, and the region, delivered from our bureaus direct to your inbox. Sign up for Svoboda Today daily email newsletter here.