SvobodaToday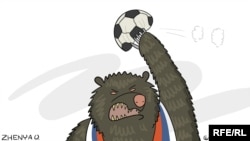 VIDEO REPORTS
RFE/RL Turkmen Journalist Marks One Year Of Incommunicado Detention
Alternative Turkmenistan News (ATN), a Netherlands-based NGO, interviewed a man who claims to have shared a prison cell with Saparmamed Nepeskuliev, a contributor to RFE/RL's Turkmen Service who has been held on fabricated charges at an undisclosed location since July 7, 2015.
NATO Launches Antisubmarine Drills Off Norway
NATO began antisubmarine warfare exercises in the Norwegian Sea amid concerns about increased Russian submarine activity, and one day after Germany warned the alliance against saber-rattling in Eastern Europe.
New Shelling In Donbas With High-Caliber Mines
Reports say that separatists shelled Ukrainian positions near the Butovka mine during the night on June 19-20, using 82mm and 120mm mines that are produced in Russia and not known to be carried by the Ukrainian army. (Ukrainian Service)
Planned Kyrgyz Media Law Draws Criticism In Bishkek
Journalists, media experts, and activists have given a scathing assessment to proposed media legislation in Kyrgyzstan, saying it would restrict press freedom.
Macedonian Protesters Hose Justice Ministry
Antigovernment protesters in Macedonia on June 20 escalated their near-nightly attacks on government buildings and monuments, pulling out compressors and hoses to spray jets of paint on the Justice Ministry.
NEWS HIGHLIGHTS
Putin Says Russia Must Respond To 'Aggressive' Western Actions
President Vladimir Putin told Russia's State Duma on June 22 that the country "must think about its own security" when confronted by "NATO's aggressive actions," and praised lawmakers for supporting Russia's 2014 annexation of Ukraine's Crimea region.
U.S. Senators Push Resolution Condemning Russian Military Actions
A bipartisan group of U.S. senators has introduced a resolution condemning Russia for "dangerous and unprofessional" military actions in recent months
Watching What You Post In Russia
Ordinary Russian citizens are being assaulted and intimidated in what they believe is retaliation for online posts critical of authorities amidst a deepening government crackdown on Internet freedoms.
Ukraine President, Deputy Tied To Commercial Infractions
RFE/RL's investigative program Schemes has reported that the International Tennis Academy, a sporting facility built by a company belonging to Ukrainian President Petro Poroshenko and Ihor Kononenko, the deputy head of the country's ruling party, has violated the terms of a leasing contract with the city of Kyiv by demanding fees for services that are stipulated as being provided free of charge. (In Ukrainian)
Embattled Ukrainian MP Accuses Government Of Politicizing Investigation
Ukrainian lawmaker and gas magnate Oleksandr Onyshchenko, who is under investigation by the country's special anti-corruption prosecutor on suspicion of corruption in the gas sector, rejected the charges against him, alleging the government is trying to take away his businesses, sell Ukraine's state-owned gas company "Ukrgazvydobuvannya" to American private interests, and deflect interest from rising utility tariffs. (In Ukrainian)
Offices Of Ex-President Yanukovych Loyalists Searched
Ukraine's prosecutors are searching offices previously belonging to Andriy Klyuyev, former head of Ukraine's presidential administration, and Volodymyr Sivkovych, former deputy head of Ukraine's National Security Council, though critics say the investigation is two years too late.(In Ukrainian)
With Ukraine Main Target, Russia Prepares For New Cold War
Ukrainian military expert Oleg Zhdanov, commenting that a new Cold War and arms race are underway, told RFE/RL that Russia is using training exercises along the Ukrainian border to test the combat readiness of Russian military units. (In Ukrainian)
MOST READ/RUSSIA: One Who Escaped From Hell
RFE/RL's Russian Service continues its series of interviews with North Korean refugees, profiling one woman who sought to escape the country, together with her young child, by selling herself into slavery in China. (over 40K views on Russian Service website)
Balkans Without Borders: Serbia And Croatia Sweep Real Issues Under The Carpet
About Svoboda Today
Svoboda Today is a quick, daily guide to developments in Russia, Ukraine, and the region, delivered from our bureaus direct to your inbox. Sign up for Svoboda Today daily email newsletter here.