SvobodaToday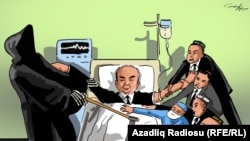 VIDEO REPORTS
The Power Vertical: The Party Of Crooks
Brian Whitmore looks into a new report by Russian opposition figure Ilya Yashin documenting the criminal activities of the ruling United Russia Party.
Large-Scale Mortars Used In Attack In Eastern Ukraine
More than 100 apartments were destroyed and one woman was injured after two hours of shelling by Russian-backed separatists in the village of Schastya in Ukraine's eastern Donetsk region on August 31. (In Ukrainian)
Chechen Refugees On Poland-Belarus Border
More than 200 Chechen refugees set up a makeshift camp under the open sky hoping to get asylum in Poland earlier this week. The group appears to have dispersed after Poland's interior minister declared the border sealed on August 31. (In Belarusian and Russian)
OTHER NEWS
PODCAST: Uzbekistan -- Where Are We Now, And What's Next?
An expert panel discussed issues relating to Uzbekistan's political transition, including whether the appearance of adhering to the country's constitution will matter, and precedents in Azerbaijan and Turkmenistan for bypassing the constitutional process following the deaths of leaders in those countries.
EU Prepared To Prolong Sanctions Against Russia Over Ukraine
European Union ambassadors appear set in advance of a September 15 deadline to prolong asset freezes and visa bans against 146 individuals and 37 entities deemed responsible for actions taken against Ukraine's territorial integrity.
Police Detain Beslan Mothers During Protest
A group of women who blame President Vladimir Putin for Russia's Beslan school massacre in 2004 were detained during a memorial ceremony along with two journalists who filmed their brief protest.
New Report Further Quantifies Russian Involvement in Ukraine War
A new report by the investigative group Bellingcat documenting the number of medals awarded by Russia's defense ministry to servicemen finds that between 2,000 - 10,000 Russian troops have taken part in the armed conflict in Ukraine. (In Russian)
Critics Say Russian Education Minister Threatens Secular Values
Critics say the appointment of Olga Vasilyeva, Russia's new education minister, is a disturbing sign of President Vladimir Putin's continued emphasis on "tradition" and the primacy of the Russian Orthodox Church, despite the constitution's declaration of Russia as a secular state.
St. Petersburg Chooses Stadium Over Schools
Authorities in St. Petersburg have taken money from the city's educational budget to finance the construction of the "Zenith" stadium in preparation for the 2018 World Cup, leaving students in one district without schools as the academic year begins. Costs for the stadium, originally estimated at seven billion rubles, have exceeded 40 billion. (In Russian)
Russians Take Out Loans To Send Kids To School
A recent VCIOM poll indicates that average families are cutting school expenses by 26 percent and taking out short-term loans to pay for school supplies and uniforms as prices increase and wages for many are delayed. (In Russian/Current Time TV)
OSCE Says Electoral Preparations In Belarus Fall Short
An August 31 report by the OSCE finds that Belarus has failed to implement many of the monitoring organization's recommendations for the September 11 parliamentary elections, and notes "the role of political parties is weak… and no new party has been registered since 2000." (In Belarusian)
Prominent Crimean journalist and RFE/RL contributor Mykola Semena, who is under criminal investigation by Russia's Security Service (FSB) on charges of separatism because of his journalism, told RFE/RL that independent media in Crimea are almost completely absent, and that "Crimeans have lost the ability to objectively evaluate events" since Russia's annexation of the peninsula in 2014. (In Russian)
INFOGRAPHIC: One in Four Russians Prepared To Sell Their Vote
About Svoboda Today
Svoboda Today is a quick, daily guide to developments in Russia, Ukraine, and the region, delivered from our bureaus direct to your inbox. Sign up for Svoboda Today daily email newsletter here.