SvobodaToday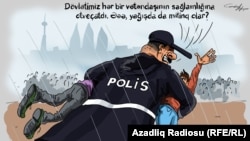 VIDEO REPORTS
Russia's Election Commission Declares Poll Legitimate, Despite Violations
Amateur video captured scenes of what appeared to be ballot-stuffing at multiple polling stations during Russia's parliamentary elections on September 18.
Ukraine Swaps Prisoners With Pro-Russian Separatists
Ukraine and pro-Russia separatists on September 17 swapped prisoners captured during the ongoing conflict in eastern Ukraine.
Bosnian Serb President To Hold Referendum In Defiance Of Court Ban
President Milorad Dodik told RFE/RL that the September 25 vote on a regional holiday in the autonomous Serbian region of Bosnia-Herzegovina will proceed as planned, and denied that it is a test for secession.
Kosovo Students Protest Serb-built Orthodox Church
A group of Kosovar-Albanian students at the University of Pristina staged a sit-in to protest plans to restore and use a Serbian-built Orthodox church on campus.
OTHER NEWS
Report Says Kremlin Planning Security Service Shakeup
Reports say Russia is planning to create a super security agency called the Ministry of State Security (MGB), the name given to Josef Stalin's spy apparatus before it became the KGB.
Russian Dissident Art Group Members Detained In Prague
Voina founder Oleg Vorotnikov could face extradition to Russia after he, his wife and fellow activist Natalya Sokol, and their daughter were taken into custody in Prague on September 18.
EU Does Not Recognize Duma Elections In Crimea
A statement by the bloc issued on September 19 reflects the EU position that it does "not recognize the illegal annexation of Crimea and Sevastopol by the Russian Federation," and adds that the "EU remains steadfast in supporting the territorial integrity and sovereignty of Ukraine." (In Ukrainian)
OSCE Gives Duma Elections Mixed Review
OSCE monitors say the vote that strengthened Russia's ruling United Russia party's grip on parliament was marred by shortcomings, but was more transparent than previous polls.
Separatist Leader Zakharchenko Threatens To Break Cease-Fire
Alexander Zakharchenko, leader of eastern Ukraine's self-declared "Donetsk People's Republic," has threatened to unilaterally terminate the recently declared cease-fire with Ukraine, citing Ukraine's failure to comply with the agreement. (In Russian)
Anti-Maidan Activist Shot Dead In Russia
Yevhen Zhylin, a former Ukrainian army officer wanted by Kyiv for terrorism, was shot dead in a Moscow suburb by an unknown attacker late on September 19.
Sergei Guriev, chief economist with the European Bank of Reconstruction and Development, told RFE/RL that low oil prices, the lack of reform, and international sanctions have combined to weaken Russia's economy, with results reflected in the fall of real incomes, which dropped by 8 percent this August, compared to 2015. (In Russian)
Tajik Human Rights Lawyers Face Lengthy Prison Terms
Prosecutors in Tajikistan have called for prison sentences of 23 and 25 years for two human rights lawyers on charges of "inciting ethnic enmity."
ANALYSIS: Six Takeaways From Russia's Duma Elections

ANALYSIS: Reading Between The Lines Of Russia's Duma Elections
COMMENTARY:Convicted War Criminal Seeks Return To Power In Bosnia
About Svoboda Today
Svoboda Today is a quick, daily guide to developments in Russia, Ukraine, and the region, delivered from our bureaus direct to your inbox. Sign up for Svoboda Today daily email newsletter here.