SvobodaToday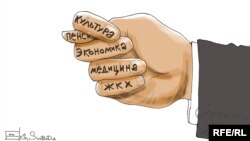 VIDEO REPORTS
Vladimir MacBetin Takes Stage In Czech Political Mash-Up
A Czech theater company is performing an interpretation of William Shakespeare's tragedy Macbeth with a new main character: a power-hungry leader named Vladimir MacBetin. The director says the play is not a literal reflection of current events, but it draws on modern Russia to enact themes of violence, manipulation, and the pursuit of power.
The Daily Vertical: The Indispensable Man
Belarusian President Alexander Lukashenka has pulled off quite a trick – he's become indispensable to just about everyone.
NEWS HIGHLIGHTS
Dear Mr. Putin, God Won't Forgive You
Prominent journalist Oleg Kashin has invoked a famous letter by Soviet dissident Aleksandr Solzhenitsyn in his own searing critique of the Russian president that has electrified the country's chattering classes.
Officials Seek To Erase Parnas From St. Petersburg Map
Officials with the ruling United Russia party have asked the St. Petersburg legislature to rename the northern district of Parnas, which shares its name with the political party founded by Kremlin critics, including Boris Nemtsov, who was assassinated in March.
Parts Of Buk Missile Found Among Remains Of MH17 Victims
Ukraine's chief investigator says that fragments of the rocket have also been found in parts of the airplane's fuselage, and that it was likely requested by separatists and brought by Russia to Donbass. (Current Time TV)
Vice President of Afghanistan General Abdul Rashid Dostum visited Chechen strongman Ramzan Kadyrov on the occasion of his birthday, and told journalists in Grozny that he supported Russian involvement in Syria and that the world's major powers should unite to fight terrorism. (Current Time TV)
Buddhist Leader Expelled From Russia
Agents with the security services in Tuva notified Buddhist leader Lobsan Gele that his presence in Russia is no longer desirable. No official reason has yet been given. (In Russian)
Poll Finds Russians Split Over Ukraine Independence
A Levada Center survey finds that 47 percent of Russians consider Ukrainians to be independent, while 46 percent regard the nation as a "little brother." In 2005, 81 percent of those polled believed that Russians and Ukrainians are one nation. Thirty-five percent of respondents in the new poll agreed that Russia "must, if necessary, use force to keep the former Soviet republics under control." (In Russian)
Europe's Watchdog Quits Working Group With Azerbaijan
Citing the continuing human rights crackdown in Azerbaijan, the Secretary General of the Council of Europe has announced that the Council will suspend its participation in a joint working group on human rights issues. (In Russian)
About Svoboda Today
Svoboda Today is a quick, daily guide to developments in Russia, Ukraine, and the region, delivered from our bureaus direct to your inbox. Sign up for Svoboda Today daily email newsletter here.