SvobodaToday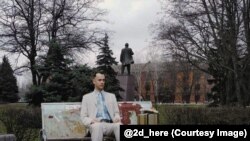 PHOTO BLOG
VIDEO REPORTS
In the second of a special six-part series, The Daily Vertical takes a closer look at Russian President Vladimir Putin and the ghosts of Kremlins past.
Several thousand pro-Russian separatists in the Ukraine's eastern city of Luhansk gathered on October 10 to protest the possibility of an international, armed monitoring mission in the area.
International observers said the October 8 vote was competitive, well-administered, and generally free, while noting isolated incidents of violence.
Crowds gathered at the offices of Novaya Gazeta, the newspaper where Anna Politkovskaya worked, to mark 10 years since her murder.
Friends and colleagues of slain Russian opposition leader Boris Nemtsov paid tribute to his memory on his birthday on October 9. (In Russian)
OTHER NEWS
Former Soviet leader and Nobel laureate Mikhail Gorbachev has warned that the world has reached a "dangerous point" as tensions between Russia and the United States have soared over the Syria conflict.
Russia and Turkey have signed an agreement to build TurkStream, a gas pipeline that would bring Russian natural gas to Europe via a southern route bypassing Ukraine.
Ukrainian authorities say a Ukrainian citizen with permanent residence in Russia has been detained in the northwestern city of Rivne on suspicion of attempting to obtain classified information from a Ukrainian military officer in exchange for an offer of money and Russian citizenship.
A cooperation agreement between Russia's Investigative Committee and the Russian Union of Writers was announced by chief investigator Alexander Bastrykin on October 10 as an effort to "contribute to the struggle for the minds of the younger generation." (In Russian, Current Time TV)
Russian Railways, the world's third-largest railway company, suffered a net loss of $1.5 billion in 2014. An investigation by RFE/RL has peeled back some of the layers to reveal the role of corruption inside the company.
Belarus announced on October 10 that Minsk will pay off gas debts to Moscow totaling $300 million by October 25, and that Russia will cut gas prices.
Kazakhstan's presidential office says President Nursultan Nazarbaev is being treated for a cold.
Acting Uzbek President Shavkat Mirziyaev has proposed an amnesty for prisoners in honor of the country's Constitution Day, on December 8.
Andrzej Wajda, whose death at age 90 was announced by the Polish media on October 10, was famous enough to be allowed to make major films yet also free enough to include anticommunist statements in them.
While Western sanctions have forced many international businesses to leave Crimea, annexed by Russia in 2014, the German retail chain Metro and the French chain Auchan saved their markets by operating through Russian "daughter" companies. (In Russian)
In an interview with RFE/RL, prominent Kremlin critic Evgeny Ponasenkov called Russian President Vladimir the "emperor of the mob" who, rather than using oil money to create a modern state, relied on the mob to divide it among his St. Petersburg friends. (Over 133k views on Russian Service website)
About Svoboda Today
Svoboda Today is a quick, daily guide to developments in Russia, Ukraine, and the region, delivered from our bureaus direct to your inbox. Sign up for Svoboda Today daily email newsletter here.