SvobodaToday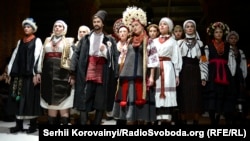 PHOTOGALLERY
This show, entitled "Origins," presented traditional Ukrainian clothing from the country's diverse regions. (Ukrainian Service)
VIDEO REPORTS
Lviv Gets Ukraine's First Bike-Sharing Scheme
In the western city of Lviv, the first stations have been set up for a new bicycle-sharing scheme -- the first of its kind in Ukraine. (Current Time TV)
Czechs Disrupt Performance Of Russian Army Choir
Protesters holding Ukrainian, NATO, and EU flags and denouncing "the music of war and occupation" demonstrated outside an arena in Prague during a performance by the Alexandrov Ensemble, the official choir of the Russian armed forces.
NEWS HIGHLIGHTS
Power Vertical PODCAST: Containment 2.0
From Ukraine to Syria, Russia's aggressive international posture has led a number of Kremlin-watchers and policy analysts to call for the revival of the Cold War policy of containment.
Assertive Russia Weighs Afghan Perils, Past And Present
Russia is signaling its willingness to reenter Afghanistan in a power play that could help President Vladimir Putin burnish perceptions of Moscow's global significance while dealing a fresh blow to Western influence.
Ukraine Announces Conditions For Elections In Country's East
Prime Minister Arseniy Yatsenyuk declared yesterday that local elections in the Donbass region can take place only after the withdrawal of Russian troops, with the participation of Ukrainian political parties and the region's refugees, and in accordance with Ukrainian law. (Current Time TV)
26-Year-Old Philologist To Head Odessa Customs Department
Yulia Marushevskaya is an activist from the 2014-2015 Euromaidan demonstrations, whose lack of specialized education is a good thing, says Governor Mikheil Saakashvili, as she will not know how to steal. (Current Time TV)
Tajik Sentenced For IS Recruiting
A Tajik court has sentenced a citizen to 16 years in prison for fighting on the side of Islamic State in Syria and recruiting migrant workers in Russia to join the militant group. (Current Time TV)

About Svoboda Today
Svoboda Today is a quick, daily guide to developments in Russia, Ukraine, and the region, delivered from our bureaus direct to your inbox. Sign up for Svoboda Today daily email newsletter here.