SvobodaToday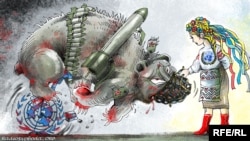 VIDEO REPORTS
Single Mother Faces Jail For 'Likes' On Social Media
A Russian court has brought charges of aiding terrorists against Yekaterina Vologzheninova, a 46 year-old single mother whose social media posts about Ukraine conflicted with the Russian government's official narrative.
Georgian Opposition Mounts TV Station Protest
Georgian opposition parties staged a protest in Tbilisi against what they say are government moves to shut down the country's biggest private TV station.
Soviet youth with iPads, whales without pants, and talking statues - a Bishkek duo says their work is street art, not graffiti, and aims to bring joy.
NEWS HIGHLIGHTS
The Power Vertical Briefing: Energy Games
Russia's energy minister goes to Tehran. Russian officials meet with OPEC in Vienna. And Moscow and Saudi Arabia battle for market share in Europe.
Meet Al-Qaeda's Russian-Speaking 'Publicist'
At a time when many Islamist militants have gone underground for fear of U.S.- led coalition bombers, Abu Rofik, a 23-year-old Russian-speaking militant from Central Asia, remains highly visible, giving interviews and even soliciting donations online.
Euromaidan Crimes Not Investigated
Activists and parents of persons who died during the 2014-2015 protests say that the courts have sabotaged investigations, often failing to pursue law enforcement officials who may have been implicated in the deaths of demonstrators and yet who continue to work at their posts. (In Ukrainian)
Crimea's Agriculture On Verge Of Extinction
Ukraine's Agriculture ministry says that Crimean agriculture is suffering profoundly due to the lack of water in the North Crimean channel, which no longer irrigates the peninsula. (In Ukrainian)
Belarus Coins Celebrate Eurasian Economic Union
The Ruble coins, with symbols depicting wealth, unity, and the common house of nations, were put into circulation by the National Bank of Belarus on October 19. (In Belarusian)
South Ossetia To Hold A Referendum On Joining Russia
In a meeting with Kremlin advisor Vladislav Surkov, the president of the unrecognized republic said reunification with Russia is an age-old dream of the South Ossetian people, and announced plans to hold a referendum on the region's status. (Current Time TV)
Offices Of Saakashvili's Party Attacked In Georgia
Offices of the United National Movement were attacked in the Georgian city of Poti on Tuesday, following similar incidents in Tbilisi, Gori, Kutaisi and Telavi. (In Russian)

About Svoboda Today
Svoboda Today is a quick, daily guide to developments in Russia, Ukraine, and the region, delivered from our bureaus direct to your inbox. Sign up for Svoboda Today daily email newsletter here.