SvobodaToday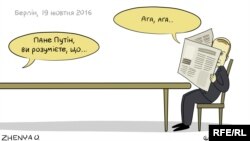 VIDEO REPORTS
Perspectives on the meaning of democracy, from leaders of lands that were once part of the Soviet Union.
In a training exercise, Ukrainian troops constructed a 1,968-foot pontoon bridge to transfer military equipment and personnel across the Dnipro river. (In Ukrainian)
The works of Russian street artist Zoom continue to disappear from Moscow's city walls as utility workers, considering them acts of vandalism, cover them with paint. (In Russian)
Dr. Mahmud Mustafa, a pediatrician in Aleppo, Syria, told Current Time TV that staff at a children's hospital are now working from the basement to escape bombardment.
OTHER NEWS
A draft document prepared for the European Union's Brussels summit indicates that the bloc is weighing sanctions against supporters of President Bashar al-Assad if they fail to stop atrocities in Syria.
Kremlin spokesperson Dmitry Peskov has confirmed that Russian President Vladimir Putin agreed during the Minsk-2 talks on October 19 to allow the deployment of armed OSCE monitors in Ukraine's eastern Donbas region. (In Russian, Current Time TV)
Russia has summoned the Belgian ambassador to Moscow in a dispute over the Kremlin's claim that Belgian warplanes killed Syrian villagers.
Seeking to regulate tourist flows from China and Iran, Intourist has announced that hotel rates for foreigners in Moscow and St. Petersburg will increase by 15 to 40 percent in the next tourist season.
A military court in Tatarstan's regional capital, Kazan, began hearings on October 20 in a case in which nine men are charged with terrorism-related offenses.
The Czech Ministry of Internal Affairs has created a unit tasked with addressing Russian disinformation and attempts of other nations to influence public opinion inside the country. (In Russian, Current Time TV)
Declaring they're "part of the same clan," Dmitry Naskavets, who was arrested in Prague in 2010 and extradited to the U.S. for hacking leading to banking security breaches, has reached out to Russian hacker Yevgeny Nikulin, arrested in Prague on October 4, to offer moral support and guidance. (In Belarusian)
Tajikistan began joint antiterror drills with China on October 20 near the border with Afghanistan as part of Beijing's drive to boost security in the region.
Rakhmonbek Usmanov, the mayor of Uzbekistan's capital city Tashkent, has pledged to publicize the names of those who apply for divorce in an attempt to keep married couples together.
Boris Zilberman, an analyst with the U.S.-based Foundation for the Defense of Democracies, told RFE/RL that an effective response to Kremlin-sponsored cyber attacks would entail the publication of codes used by Russian authorities to censor the Internet; sanctions against Russian officials who deploy hackers; and the disclosure of foreign accounts belonging to individuals in Russian President Vladimir Putin's circle, possibly including Putin himself. (Over 65k views on Russian Service website)
About Svoboda Today
Svoboda Today is a quick, daily guide to developments in Russia, Ukraine, and the region, delivered from our bureaus direct to your inbox. Sign up for Svoboda Today daily email newsletter here.