SvobodaToday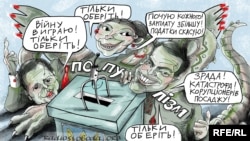 VIDEO REPORTS
A Muddy Tractor Ride Through Siberia
The Siberian village of Frantsevo was left stranded when a logging company began tearing up the little-used railroad tracks. Now the only way for villagers to buy groceries or pick up mail is to travel to the nearest town on a wagon towed by a tractor.
Ukrainian soldiers have rigged up a mobile sauna at the line of contact near the Donetsk airport, which rebels seized this spring.
NEWS HIGHLIGHTS
The Power Vertical: Putin's Bipolar Disorder
The new emerging world order "is not a renewal of blocs in the Cold War sense but two distinct normative systems," Chatham House's veteran Kremlin-watcher James Sherr recently said.
High Voter Turnout Is Expected For Local Elections In Ukraine
A recent survey shows that more than 74 percent of Ukrainians are expected to participate in Sunday's local elections. (In Ukrainian)
Ukraine's Separatists Ready For Fred Durst And Limp Bizkit
The self-proclaimed Donetsk People's Republic has reportedly invited the band to perform. The American-born rocker has expressed his desire to obtain a Russian passport, and his intention to show the world how great Russian President Putin is.
Chess Federation Suspends Kasparov
The Ethics Committee of the International Chess Federation has placed a two-year ban on the chess champion, claiming he pledged to make payments to Asian members in exchange for their support of his 2014 FIDE presidential bid. (Current Time TV)
Putin's Rating Sets New Record
Russian President Vladimir Putin's approval rating has set a new record at 89.9 percent, according to a new poll, largely in response to Russia's actions in Syria. (In Belarusian)
Russian Firewood Initiative Raises A Burning Question
Russia is the world's second-largest producer of natural gas, but a local charity in Tver, 200 kilometers north of Moscow, is collecting donations to buy firewood to help residents survive the winter.
Standard of "Orthodoxy" Proposed for Russian Products
Russian Patriarch Kirill is considering a proposal to introduce an orthodox stamp that would be placed on products affirming their positive contribution to spiritual and physical health. (Current Time TV)
About Svoboda Today
Svoboda Today is a quick, daily guide to developments in Russia, Ukraine, and the region, delivered from our bureaus direct to your inbox. Sign up for Svoboda Today daily email newsletter here.