SvobodaToday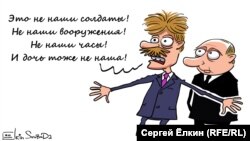 VIDEO REPORTS
Arif Yunus Released From Prison
Prominent Azeri human rights defender Arif Yunus was released from prison on November 12 on grounds of poor health. He has been transferred to house arrest and barred from leaving the country.
Ukraine's Azov Regiment Opens Boot Camp For Kids
Children in Ukraine's Sumy region can attend a camp where they learn basic military skills, including how to handle weapons, while also learning the regiment's far right-wing ideology. (Current Time TV)
The Doping Scandal: 'It's All About Politics'
Moscow residents on the exercise circuit spoke to Current Time TV about their reaction to the World Anti-Doping Agency report on Russian athletes' use of performance-enhancing drugs.
Islamic State Militants' Wives Tell Their Story
Current Time TV spoke to Umm Ams and Dua, two young cousins who were married to foreign fighters of the Islamic State militant group in Raqqa, Syria.
NEWS HIGHLIGHTS
Russia To Propose New Constitution, Early Elections at Syria Talks
The leaked draft plan makes no mention of Syrian President Bashar al-Assad stepping down during the transition -- a key demand of the West and Gulf states participating in the peace talks.
Kazakhstan Expands Cooperation with EU
The accord is looser than the association agreements and free-trade deals offered by the EU to eastern neighbors like Ukraine, Georgia, and Moldova, but it is more ambitious than anything previously agreed with any other Central Asian state or Russia.
Head Of Ukraine's Right Sector Steps Aside
Ukrainian lawmaker Dmytro Yarosh says the decision is the result of an injury and internal disagreements over the movement's direction. Russia has designated Right Sector an extremist organization. (Current Time TV)
Crimeans Fear Population Shift on Peninsula
Crimean Tatar leader Refat Chubarov says that Russia will gradually displace the groups on the peninsula that it considers disloyal, including the indigenous Crimean Tatars, and will replace them with Russians.(In Ukrainian)
Russia Has Left The Separatist Region Of Ukraine Without Petrol
Continuing fuel shortages in separatist-controlled Luhansk and Donetsk regions could affect the political balance in eastern Ukraine. (In Ukrainian)
Internet Reacts To Putin's Alleged Billionaire Daughter
Kremlin supporters and opponents are bickering online following Reuters' publication of an investigation into the lives and fortunes of Russian President Vladimir Putin's daughters.
Russia proposes to raise the retirement age for men and women to 63, claiming that Russians are well fed and engaged in sports, and can therefore work longer. (Current Time TV)
While Russia evacuates tourists following the October 31 crash of Flight A321, Ukrainians are taking advantage of low fares and are flying for pennies to the Red Sea. (Current Time TV)
About Svoboda Today
Svoboda Today is a quick, daily guide to developments in Russia, Ukraine, and the region, delivered from our bureaus direct to your inbox. Sign up for Svoboda Today daily email newsletter here.