SvobodaToday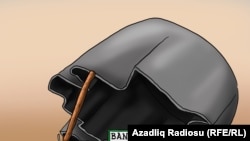 VIDEO REPORTS
Muscovites Mourn For Paris Attack Victims
Muscovites left flowers, lit candles, and expressed sympathy outside the French Embassy on November 14.
Migrants 'Very Afraid' Of Consequences Following Paris Attacks
Migrants traveling through Europe fear becoming targets of a backlash following the November 13 Paris attacks. RFE/RL spoke with a group in a Macedonian town on the Serbian border.
Ukrainian Army Receives Radars From The US
The U.S. army delivered two AN / TPQ-36 radars to Lviv that are designed to determine the firing positions of mortars, artillery guns, and rocket launchers at a distance of up to 24 kilometers.
NEWS HIGHLIGHTS
PODCAST: The Power Vertical: The Nobility And The Masses
They're executives at banks, energy companies, and pension funds. They're worth billions. And they increasingly resemble the heirs of a new aristocracy.
Russian President Vladimir Putin has ordered the creation of a new national youth organization that many believe will be similar to the Soviet-era Young Pioneers and Komsomol organizations.
Putin's Sports Chief In The Spotlight
Vitaly Mutko, Russia's colorful sports minister, is at the center of an investigation into Russian athletes' systemic use of performance-enhancing drugs.
Moscow Rally To Commemorate Sergei Magnitsky
A coalition of three political parties is organizing the demonstration to demand a credible investigation into the death of the human rights lawyer, who died in his prison cell after being denied medical care on November 16, 2009. (In Russian)
Russian Sailors Protest Unpaid Wages
Fifteen Russian sailors on the ship "Believe," registered under the flag of Saint Kitts and Nevis, went on strike in a South Korean port to protest unpaid wages amounting to about $60,000 each. (In Russian)
Local Elections In Ukraine: Low Turnout And FEMEN Protest
Vitaly Klitschko won the Kyiv mayoral seat with 71.8 percent of the vote - but not without objections from Ukraine's infamous FEMEN group - in Ukraine's second round of local elections. (In Ukrainian)
Uzbekistan Arrests 150 People For Links to IS
Sources say that most of the detainees are migrant workers returning from Russia, and some are allegedly members of the banned party "Hizb ut-Tahrir." (In Russian)
Kazakh Trade With EEU Down in 2015
For the past nine months, Kazakhstan's exports to members of the Eurasian Economic Union decreased by 26.8 percent to $2.35 billion, while its imports decreased by 18.2 percent to $5.45 billion. Exports to Russia specifically decreased by 26.9 percent, while imports from Russia decreased by 17.5 percent. (In Russian)

About Svoboda Today
Svoboda Today is a quick, daily guide to developments in Russia, Ukraine, and the region, delivered from our bureaus direct to your inbox. Sign up for Svoboda Today daily email newsletter here.