SvobodaToday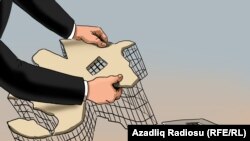 VIDEO REPORTS
Czech President Attends Anti-Muslim Rally
Czech President Milos Zeman addressed thousands of people at a protest in Prague organized by a group called Bloc Against Islam.
More Clashes In Kosovo Over Deal With Serb Minority
Protesters and riot police clashed on the streets of Kosovo's capital city, Pristina, over a controversial agreement that would give more powers to Serb-dominated areas.
Nobel Peace Prize Winners Go To Serbia To Support Refugees
Three Nobel Peace Prize laureates, including Iran's Shirin Ebadi and Jody Williams from the U.S., visited refugees and migrants in Serbia to offer them support.
Daily Vertical: Is Paris Putin's Window of Opportunity?
Will the Paris attacks give Russian President Vladimir Putin a modern Yalta and a free hand in the former Soviet space?
NEWS HIGHLIGHTS
Ousted Ukraine Government Provided Weapons To Disperse Maidan
Ukraine's prosecutor general says that on February 20, 2014 authorities issued supporters 408 submachine guns and 90,000 rounds of ammunition from weapons depots belonging to the Interior Ministry. (Current Time TV)
EU Mulls Talks With Russian-Led Bloc
Expecting rocky times with Russia ahead, a handful of European diplomats suggest that Brussels might extend an olive branch by conducting direct talks with the Moscow-led trade bloc, the Eurasian Economic Union.
Russia Proposes Ukraine Debt Restructuring
In a surprise gesture, Russian President Vladimir Putin said that Moscow would accept annual payments of $1 billion until 2018, rather than repayment of $3 billion this year.
Ukrainian Currency Continues To Drop
The drop, following local elections and caused by the seasonal increase in gas imports, and government payouts for failed banks, will likely mean profits for Ukrainian exporters and losses for ordinary citizens. (In Ukrainian)
Russians Owing Alimony To Lose Driver's License
Under a new law, drivers who commit traffic violations and who have failed to pay child support in excess of 10,000 rubles, or $154.00., will have their driver's license suspended. (Current Time TV)
Kazakh President Calls On Rich To Fight Economic Crisis
Declaring, "The state has given you the opportunity to become rich," Kazakhstan President Nursultan Nazarbayev has called on the country's wealthiest to buy and invest. (Current TIme TV)
About Svoboda Today
Svoboda Today is a quick, daily guide to developments in Russia, Ukraine, and the region, delivered from our bureaus direct to your inbox. Sign up for Svoboda Today daily email newsletter here.