SvobodaToday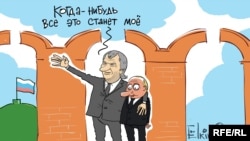 VIDEO REPORTS
There is a method to the Kremlin's denial madness.
Amnesty International says Russia's controversial "foreign agents" law is an "assault on freedom of expression" that has caused dozens of NGOs to curtail their operations and others to shut down.
Ukraine's 14th mechanised tank brigade, comprising T64 tanks with 125mm caliber cannon, destroyed its targets at an 85 percent success rate during recent drills. (in Ukrainian)
Kyrgyzstan has opened a criminal investigation into the practice of a self-described healer who claims to treat cancer with herbal remedies.
OTHER NEWS
Ukraine is marking the Day of Dignity and Freedom, a holiday commemorating the 2013 beginning of the Euromaidan protests that ousted former President Viktor Yanukovych.
Two more suspected members of a Ukrainian "saboteur group" have been arrested in Russian-annexed Crimea, Russian law enforcement officials say.
Ukraine's first president Leonid Kravchuk, who helped usher in the peaceful dissolution of the Soviet Union 25 years ago, told a Washington audience that Ukraine's leaders today must find a similarly peaceful resolution of the separatist conflict in the east.
The Pentagon has notified Congress that it plans to stop buying Russian Mi17 helicopters for Afghanistan and will start buying American helicopters instead.
Speaking on the sidelines of an Asia-Pacific economic summit on November 19, the heads of Russia and China said they will push for a free-trade area in the region.
Following the disappearance of 12 people over a three-week period this fall, people in Daghestan have begun to ban together to protest the continuing cycle of abductions of young people, often later found dead or not at all, by armed, masked men. (in Russian, Current Time TV)
Azerbaijani President Ilham Aliyev has rejected allegations that his government has imposed restrictions on the freedom of the press.
Kazakh prosecutors are seeking eight-year prison terms for two participants involved in mass protests against the country's land reforms earlier this spring.
Kyrgyzstan's Respublika and Ata-Jurt political parties are dissolving their merger just weeks before local elections, and about one year before presidential polls.
RFE/RL's investigative program "Schemes" has found that despite an official ban on direct flights between Ukraine and Russia, Viktor Medvedchuk, Ukraine's representative to a subgroup of the Minsk process on humanitarian aid, whose godfather is Russian President Vladimir Putin, flies nonstop. (in Ukrainian)
Three years after the Euromaidan protests, analysts acknowledge major improvements in Ukraine, but also increasing public dissatisfaction with the slow progress of reforms and the lack of accountability for crimes committed under the previous regime. (in Ukrainian)
Speaking to RFE/RL, Alexander Vorobiev, the mayor of the Crimean city of Henichesk, denied claims that he allegedly called Russian President Vladimir Putin to ask for additional gas supplies for residents, but said that for thousands of innocent victims on all sides, and for raising his hand against "a brotherly nation," Putin is worse than Judas. (over 120K views on Russian Service website)
About Svoboda Today
Svoboda Today is a quick, daily guide to developments in Russia, Ukraine, and the region, delivered from our bureaus direct to your inbox. Sign up for Svoboda Today daily email newsletter here.