SvobodaToday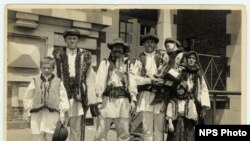 PHOTOGALLERY
Portraits Of Ellis Island Immigrants 1902-1913
VIDEO REPORTS
Some Crimeans are stoic about the power outages, some see it as an attempt to intimidate them, and others are angry and wondering what will come next.
NEWS HIGHLIGHTS
The latest developments relating to Turkey's shooting down of a Russian warplane on November 24.
Russia To Send Advanced Anti-Aircraft System To Syria
According to Russian Presidential Spokesman Dmitry Peskov, the advanced S-400 anti-aircraft system would be installed at the Hmeimim military base.
Russia Slams 'Accomplices Of Terrorism'
Despite angry rhetoric from Putin and other Russian officials, it is unclear how aggressively Moscow is prepared to respond to Turkey's downing of a Sukhoi Su-24M plane.
Georgia Probes IS Video Showing Its Citizens
In the recording, four Georgian-speaking men holding AK-47 rifles and an RPG grenade launcher call on Muslims in Georgia to join the "Caliphate."
Crimean Tatars' High-Risk Strategy
Activists in southern Ukraine, led by representatives of the Crimean Tatar indigenous minority, are pushing hard to force Kyiv to adopt a more aggressive policy aimed at recovering Crimea.
Can Russia Use Energy To Pressure Ukraine?
The Kremlin may block coal shipments and exports of electricity and gas to Ukraine in retaliation for attacks on Crimea's power grid, testing Ukraine's progress in diversifying its energy supply. (In Ukrainian)
Dissident Faction Forms Inside Poroshenko's Party
Infighting inside the Solidarity block, Ukrainian President Petro Poroshenko's political party, has prompted several deputies to form an "anti-corruption group." (In Ukrainian)
Turkish Embassy In Moscow Attacked By Hooligans
A group of several dozen young people smashed several of the building's windows, sprayed paint on the facade, and pelted it with stones and eggs. Riot policemen sought to disperse the crowd but made no arrests. (Current Time TV)
Russian Travel Operator Suspends Tours To Turkey
In response to rising tensions with Turkey, Natali Tours announced that it is suspending sales of tours to the country from Russia, Ukraine, Kazakhstan, and Belarus. (Current Time TV)
The Russian president and prime minister were both in Yekaterinburg today to attend the opening ceremony of the Center, which creators say is intended to promote a more favorable public image of the "wild 1990s." (In Russian)
Ukraine To Levy Punitive Tax On Belarusian Goods
Ukraine will retaliate against Belarus's restrictions on Ukrainian beer and sweets by imposing a 39.2 percent tax on imports of its milk, candy, chocolate, chemical products and tractors effective January 20, 2016. (In Belarusian)
About Svoboda Today
Svoboda Today is a quick, daily guide to developments in Russia, Ukraine, and the region, delivered from our bureaus direct to your inbox. Sign up for Svoboda Today daily email newsletter here.