SvobodaToday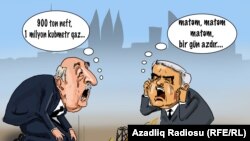 VIDEO REPORTS
Dadin Supporters Dragged From Court
Supporters of civic activist Ildar Dadin, surprised by today's harsh ruling, scuffled with police after a Russian court sentenced him to three years in a prison colony on charges of violating laws on public actions. (Russian Service)
Armenians Protest After Referendum To Change Constitution
With drums and whistles, opposition activists took to the streets of the Armenian capital, Yerevan, after polls closed in a referendum they say is a power grab by President Serzh Sarkisian.
Leaving Kazakhstan's Poison Village
A public health crisis resulting from toxic emissions at Kazakhstan's Karachaganak gas and condensate field has led authorities - more than a decade after complaints began - to agree to relocate the inhabitants of the northwestern village of Beryozovka.
Moldova's Roma Struggle For Diplomas
Members of Moldova's Roma minority are 10 times less likely to go to university than members of the general population. Many face discrimination, while some question the economic benefits of getting a degree.
NEWS HIGHLIGHTS
Turkey, IS's Oil Trade, and Russia's Strategy in Syria
In an interview with RFE/RL, the Atlantic Council's Aaron Stein said Russia's air strikes since the downing of a Sukhoi fighter jet "are targeting Turkish interests directly.
Khodorkovsky Accused In Killing
Khodorkovsky says he has been formally accused in a criminal case that involves the 1998 killing of a Siberian mayor that President Vladimir Putin has previously suggested was ordered by the Kremlin critic.
Nobel Winner Alexievich: Hope Has Been Replaced By Fear
Accepting her prize in Stockholm on December 7, Svetlana Alexievich said her generation "missed the chance" to create a country "where people can live decently" following the collapse of the Soviet Union.
Electricity Is Back On In Crimea
Crimean energy company Crymenergo confirmed that repairs have allowed Ukraine to partially restore the supply of electricity from Kherson to the peninsula. (In Russian)
Ukraine Mandates TV Channel For Diaspora And Donbas
In an effort to strengthen "informational sovereignty," the Ukrainian parliament on December 8 passed legislation mandating state-run TV broadcasting for audiences in the diaspora and the Donbas region. The law also places new emphasis on English-language programming. (Current Time TV)
Life's Not A (Foreign) Beach For Russians
The head of Russia's state agency for tourism, who owns two villas in the Seychelles and drives a Mercedes-Benz and a Bentley, called the need for beach and sea "a stereotype" imposed on Russia, and told vacation-seekers to head to Crimea instead.
American Doctors Provide Medical Support To Ukrainian Children
Doctors from Boston's Shriners hospital will join colleagues from Lviv to operate on 147 severely injured children from all over Ukraine, including the Donbas region. (In Ukrainian)
Russians Support Fight Against 'Fifth Column'
A Levada Center poll finds that 41 percent of respondents believe the fight against "foreign agents" and "the fifth column of the West" is justified; 66 percent of respondents consider themselves free. (In Belarusian)
About Svoboda Today
Svoboda Today is a quick, daily guide to developments in Russia, Ukraine, and the region, delivered from our bureaus direct to your inbox. Sign up for Svoboda Today daily email newsletter here.