SvobodaToday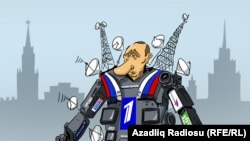 VIDEO REPORTS
Kosovo Parliament Disrupted Again With Tear Gas Attack By Opposition
Opposition lawmakers in Kosovo again disrupted parliament with tear gas. Over the past three months, opposition politicians have halted sessions of parliament in Pristina with pepper spray, tear gas, whistles, and water bottles.
Tajikistan After the Earthquake
Following last week's quake in the autonomous Gorno-Badakhsan region, local roads remain strewn with rubble and helicopters are needed to deliver humanitarian aid, as temperatures in the region drop to minus 20 degrees celsius.
LGBT Activists March in Montenegro
LGBT activists marched through the center of Podgorica on December 13 at the third-annual Montenegro Pride Parade, calling for legislation guaranteeing equal rights.
NEWS HIGHLIGHTS
EU And Serbia Open Accession Talks
Serbia and Brussels have begun talks in earnest on possible EU membership for Belgrade, opening the first two accession stages in negotiations for joining the bloc.
Kazakh Ex-Premier Akhmetov Sentenced To 10 Years For Corruption
The former official was found guilty of embezzling approximately 3.5 million dollars from the state budget. (Current Time TV)
Russian Airbase In Belarus? Round Two
Today's visit to Moscow by Belarus' Alyaksandr Lukashenka is expected to be highlighted by continued Russian efforts to establish an airbase on Belarusian soil. Political expert Andrei Suzdaltsev tells RFE/RL that Lukashenka will not damage improving relations with the West by agreeing to Putin's request. (In Belarusian)
Kremlin Critic Rejects Prosecutor's Claims About Opposition Video
A major Western investor turned Kremlin critic, William Browder, has rejected Russian Prosecutor-General Yuri Chaika's claim that he was behind the production of an online video accusing Chaika and his family of corruption.
Putin Authorizes Constitutional Court To Ignore European Rulings
A bill signed by the Russian president on December 15 authorizes the court to deem unenforceable the decisions of international courts, including the European Court Of Human Rights, if the rulings contradict the Russian constitution. (Current Time TV)
Up To 3000 Russians Estimated To Be Fighting With Terrorists Abroad
Federal Security Agency Chief Aleksandr Bortnikov says that 198 Russians have been killed fighting with terrorist organizations in Syria and Iraq. Criminal charges have been filed against more than 1000 Russian citizens suspected of fighting abroad. (Current Time TV)
Putin Turns Crimea Into An Island Of Bad Luck
Commentator Vitaliy Portnikov warns that with the price of oil at $30, promises of new infrastructure projects for Crimea are illusory. If there is no money for Russia, there is no money for Crimea. (In Ukrainian)
Putin Lowers Penalties For Truckers Who Fail To Pay "Platon" Fees
A new decree drastically reduces the fines charged to truckers who fail to pay new federal highway fees. The fine for the first offense is 71USD, down from 6372USD. The fine for a second offense will be 141USD. (Current Time TV)
Kremlin Replacing Market With Mobilized Economy
Economist Mikhail Krutikhin predicts that the ruble will continue to fall in the coming months, reaching a new low of 100 rubles to the dollar. (Current Time TV)
Kazakh Currency Reaches Historic Low
Some experts see the depreciation of the tenge against the US dollar as a response to panic in the financial market, while others see it as a result of Kazakhstan's accession to the Eurasian Economic Union. (In Russian)
About Svoboda Today
Svoboda Today is a quick, daily guide to developments in Russia, Ukraine, and the region, delivered from our bureaus direct to your inbox. Sign up for Svoboda Today daily email newsletter here.