SvobodaToday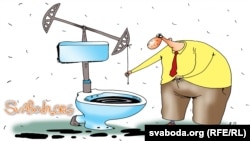 VIDEO REPORTS
Montenegrin PM: NATO Offer Need Not Harm Ties With Russia
In an interview with RFE/RL, Montenegrin Prime Minister Milo Djukanovic expressed surprise at the Kremlin's harsh reaction to NATO's offer of membership, and said his country's relations with Russia shouldn't suffer.
Getting Battle-Ready With Ukraine's "Hyacinth-B" Cannon
Ukrainian soldiers with the 44th artillery brigade have 2 minutes and 20 seconds to prepare the cannon for battle. (Ukrainian Service)
Muscovites Protest Plans For More Paid Parking
Protesters demanded the resignation of Moscow's mayor and the head of the city's transportation department in response to a proposal to expand paid parking zones. (Current Time TV)
Guilty Memories Of Stalin's Deportations From Moldova
More than 60 years after he cooperated with Soviet forces to deport dozens of families from his village in present-day Moldova, Andrei Vulpe struggles with his guilt.
One Year After Massacre, Peshawar School Tries To Move On
One year after 144 students and staff at Peshawar's Army Public School were slaughtered by Taliban gunmen, survivors of the attack are coping with the trauma.
NEWS HIGHLIGHTS
U.S. Bill Seeks Visa Sanctions For Azerbaijan
U.S. Representative Chris Smith (R-NJ), has introduced legislation that would deny U.S. visas to senior Azerbaijani officials due to what he calls Baku's "appalling human rights violations."
LiveBlog: Putin Meets the Press
In his annual Q/A with the nation, Russian President Vladimir Putin spoke optimistically about projected economic growth, insisted on a political solution in Syria, and described cooperation with Turkey as "impossible."
New Russian Law Ignores ECHR Standards - And Own Constitution
Critics of a new Russian law allowing it to reject decisions by international courts warn it could lead to Russia's exit from the Council of Europe - and contend that it violates Russia's own constitution.
Savchenko Announces Hunger Strike
The Ukrainian military pilot has announced that she will wage a hunger strike until the trial is over, and demands immediate release. Prosecutors have requested her detention be extended until April 16. (In Ukrainian)
Ukraine To Stop Trade With Crimea
Ukraine's cabinet of ministers adopted a ban on the supply of goods and services to Crimea effective January 1, 2016, exempting only the transport of personal belongings and humanitarian aid. (Current Time TV)
In Russia TV is Ubiquitous - And Mistrusted
A Levada Center poll finds that while 85 percent of Russians rely on TV for their news, trust in the medium has dropped to 41 percent from 79 percent in 2009. (Current Time TV)
An Inside View of Political Detention in Russia
RFE/RL spoke with Yabloko party leader Sergei Mitrokhin and sociologist and civil activist Georgy Satarov about their experience in custody after being detained by police in Moscow on December 12. (In Russian)
Russia Or Prison: No Difference
In a letter from prison, jailed performance artist Petr Pavlensky told RFE/RL, "We need revolution just like air." (In Russian)
Ukrainian Refugees Not So Welcome In Russia
Refugees from Ukraine's eastern regions have complained of indifference after Russian authorities offered them meagre housing in eastern Pskov's isolated Smuravievo village, but still believe that "Putin will help." (In Russian)
INFOGRAPHIC: Russia's Economic Dependence On Its Energy Customers
About Svoboda Today
Svoboda Today is a quick, daily guide to developments in Russia, Ukraine, and the region, delivered from our bureaus direct to your inbox. Sign up for Svoboda Today daily email newsletter here.