SvobodaToday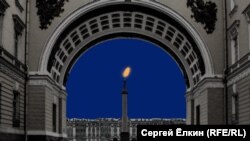 VISUAL REPORTS
The death toll in a bomb blast on a subway train in St. Petersburg has risen to 14, and authorities in Kyrgyzstan say the main suspect is a Kyrgyz-born Russian citizen.
Truckers from across Russia are protesting a hike in highway tolls overseen by a company with ties to a friend of President Vladimir Putin.
The EU's Donald Tusk warned Macedonians their political crisis was holding them back from Euro-Atlantic integration, as protesters demanded "respect" from Brussels amid a row over the status of the Albanian language.
OTHER NEWS
Russian investigators say they suspect the bomb that killed 14 people on a St. Petersburg subway train was set off by a man whose remains were found at the scene of the blast.
As chaos gripped St. Petersburg after a bomb blast ripped through a Metro train car and killed at least 10, residents went online offering free rides to those stranded by the attack.
Russians on social networks are overwhelmingly critical of the security services' inability to protect citizens during yesterday's bomb blast in the St. Petersburg subway, saying "while catching students they missed the terrorists," and drawing parallels with Moscow's catastrophic response to the 1999 Dubrovka theatre attack. "The hybrid presidential campaign has started," someone wrote on Facebook. (Russian Service)
Ukraine's foreign ministry has issued a strong statement protesting Russia's recent announcement that it will implement a military draft in Crimea, which it annexed from Ukraine in 2014. Russia's Southern Military Command has said that conscripts from the peninsula will be deployed in all regions of Russia. (Ukrainian Service)
Russian President Vladimir Putin has signed a law that exempts Russians who are under Western sanctions from paying taxes in Russia if they are registered as taxpayers abroad.
Belarusian President Alyaksandr Lukashenka says he hopes the settlement of an energy dispute with Russia can ease tensions with Moscow and bring stability to his own country.
The International Monetary Fund has approved a $1 billion loan payment to Ukraine as part of a $17.5 billion bailout program in exchange for Kyiv implementing reforms and tackling corruption.
Moldovan President Igor Dodon has signed a memorandum on cooperation with the Eurasian Economic Union, part of his push for closer ties with Moscow.
The Kremlin says Uzbek President Shavkat Mirziyaev will visit Russia on April 4-5.The visit will include talks with Russian President Vladimir Putin on April 5, Putin's press service said.
Kazakhstan is trying fugitive tycoon and opposition figure Mukhtar Ablyazov in absentia.
The leader of an opposition party in Kyrgyzstan has urged parliament to hold an emergency session after a jailed former lawmaker was found in his cell with cut veins on his neck and one hand.
Election officials in Tajikistan say President Emomali Rahmon's eldest son, Rustam Emomali, has won a seat in the Dushanbe city legislature.
Commenting on yesterday's subway bombing, politician Konstantin Borovoy told RFE/RL,"I have no doubt that the Russian special services organized it. Too much of a coincidence in timing and in style." Political analyst Ruslan Martagov observed, "As soon as the attack occurs we start to think about who benefits from it. Then ..authorities change the Constitution and implement draconian laws. Hence, there is the possibility that the attack is being used to solve internal political problems, and it makes everyone distrust the official version." (Russian Service)
Russia's protesting truckers differ from their predecessors in 2015 by combining political demands, including the resignation of Russian President Vladimir Putin, with their opposition to a new road tax. Sergey Vladimirov, chief of the St. Petersburg branch of Russia's Carriers Organization claims 100 drivers join the protests every day, and told RFE/RL, "People don't believe in anything anymore and are ready for radical measures. We are probably the last hope and the buffer before civil war." (over 70k views on Russian Service website)
About Svoboda Today
Svoboda Today is a quick, daily guide to developments in Russia, Ukraine, and the region, delivered from our bureaus direct to your inbox. Sign up for Svoboda Today daily email newsletter here.