'The Last Drop': Why Belarusians Took To The Streets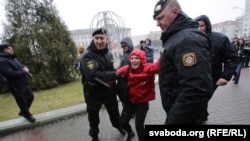 RFE/RL Minsk correspondent Alaksandra Dynko reported from a wave of historic protests that took place across Belarus in February and March and ended in a police crackdown that saw the arrest of hundreds of peaceful demonstrators and journalists, including RFE/RL Belarus Service correspondent Halina Abakunchyk. In this episode of Heard It From Her, Alaksandra explains how a policy of penalizing the unemployed as "social parasites" spurred nationwide outrage, discusses the women's face of unemployment in Belarus, and analyses the connections with recent events in Russia.
About This Podcast
Heard It From Her is a conversation with a woman in media with a story to tell. Each month we'll speak with a journalist from RFE/RL or other independent media in our broadcast region to talk about her reporting, the issues she confronts, and the political, societal, and cultural context in which she works. For more on women in media, follow Lady Liberty on Facebook and Twitter.