'With Our Hearts And Our Heads': Telling The Stories Of Women Refugees.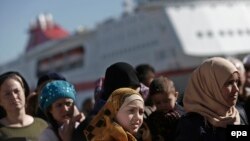 In this episode of 'Heard It From Her,' we spoke with Serbian journalist Jasmina Lazic, who visited a refugee camp in norther Macedonia to make a short documentary about the women she met there.
A deal brokered between the EU and Turkey at the height of last year's migrant crisis has effectively closed the Balkan route, but there are still thousands of migrants and refugees living in limbo in camps in Greece and Macedonia. The women who have made this perilous journey are particularly susceptible to violence, and some are traveling alone with their children. RFE/RL Balkan Service correspondent and former Jiri Dienstbier Journalism Fellow Jasmina Lazic visited a refugee camp in northern Macedonia in April to make a short video documentary about the women there. On this episode of Heard It From Her, we discuss the women she met and what she learned from the experience.
--Emily Thompson
About This Podcast
Heard It From Her is a conversation with a woman in media with a story to tell. Each month we'll speak with a journalist from RFE/RL or other independent media in our broadcast region to talk about her reporting, the issues she confronts, and the political, societal, and cultural context in which she works. For more on women in media, follow Lady Liberty on Facebook and Twitter.