Corporate And Broadcast Archives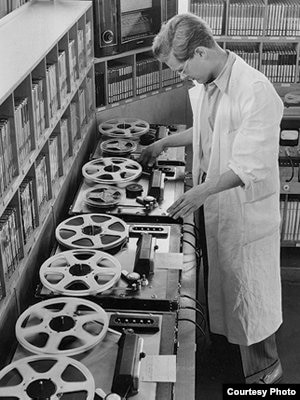 Collecting information for RFE broadcasts in Munich
RFE/RL's corporate and broadcast archives were donated to the Hoover Institution and are available at the Hoover Archives (RFE/RL Collection). The corporate archives include records of the Free Europe Committee and its non-Radio activities. RFE/RL retains copyright but encourages wide use of the materials.

RFE/RL provided copies of its broadcast archives to partner European archive institutions to make them more easily available to users. The National Digital Archives of Poland and Polish Radio, the Hungarian National Szechenyi Library, the Czechoslovak Documentation Center at the National Museum, the National Archives of Estonia, and the National Archives of Latvia have copies of the respective country broadcast archives.
The Inner Asian Uralic National Resource Center of Indiana University maintains an audio archive of selected RFE/RL interviews and stringer reports from the early to mid-'90s in Azeri, Kazakh, Kyrgyz, Tajik, Turkmen, and Uzbek.
Research Archive
The archives of the RFE/RL Research Institute and its successor, the Open Media Research Institute, are in the custody of the Open Society Archive in Budapest.
Retained Records
RFE/RL retained its historical personnel and security records. These records remain closed.
Contacts
Contact information may be found on the linked pages of the archive institutions listed above. Requests for copyright permission involving materials in RFE/RL archival collections should be addressed to:
Martins Zvaners, ​RFE/RL Deputy Director of Media and Public Affairs (Washington, D.C.)