Management And Governance
RFE/RL Senior Management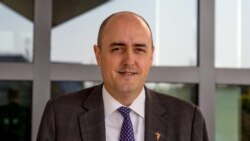 Jamie Fly
President and Chief Executive Officer
Jamie Fly resumed his leadership of RFE/RL as President and Chief Executive Officer on February 16, 2021, following his reappointment by the RFE/RL Board of Directors. Fly was first named RFE/RL President and Chief Executive Officer on July 10, 2019, effective August 1, 2019. Prior to his appointment, Fly served as a senior fellow, co-director of the Alliance for Security Democracy, and director of the Future of Geopolitics and Asia programs at The German Marshall Fund of the United States. He served as counselor for Foreign and National Security Affairs to Senator Marco Rubio (R-FL) from 2013-17, serving as his foreign policy advisor during his presidential campaign. Prior to joining Senator Rubio's staff in February 2013, he served as the executive director of the Foreign Policy Initiative (FPI) from its founding in early 2009. Prior to joining FPI, Fly served in the Bush administration at the National Security Council (2008-09) and in the Office of the Secretary of Defense (2005-08). His articles and reviews have been published in a wide variety of outlets in the United States and Europe. For his work in the Department of Defense, he was awarded the Office of the Secretary of Defense Medal for Exceptional Public Service. Fly received a B.A. in international studies and political science from American University and an M.A. in German and European studies from Georgetown University.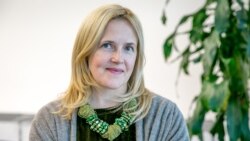 Daisy Sindelar
Vice President and Editor in Chief
Daisy Sindelar was named Vice President and Editor in Chief of RFE/RL in August 2019, and served as Acting President in January 2021, June to December 2020 and from December 2018 to July 2019. Prior to these appointments, Sindelar served as Director of the Current Time digital network, a 24/7 Russian-language global network led by RFE/RL in cooperation with Voice of America. Sindelar has been with RFE/RL since February 2001 and contributed in various journalistic and editorial roles within our Central Newsroom. She advanced from Senior Correspondent to a management role as Regional Director, European Desk. Previous to joining RFE/RL she was managing editor of The Moscow Times and editor-in-chief of The St. Petersburg Times. Sindelar holds a B.A. in Russian studies from Bryn Mawr College, in addition to completing post-graduate journalism studies at the University of Florida and advanced Russian language studies at the Herzen Pedagogical Institute in St. Petersburg.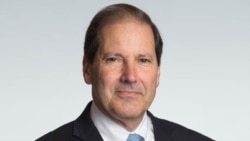 Mark Kontos
Vice President and Chief Financial Officer / Treasurer
Mark Kontos was selected as RFE/RL Chief Financial Officer (CFO) and Treasurer of the Corporation in February 2020, and is based in Washington, DC. Prior to his appointment, Kontos served for twelve years as Senior Vice President, CFO, and Treasurer of MITRE Corporation, which operates a series of U.S. Federally Funded Research and Development Centers (FFRDCs) that serve the public interest through systems engineering and applied sciences for large-scale, complex problems of importance for defense, intelligence and civilian agencies of the US government. Kontos has also served as CFO of Battelle Memorial Institute and AK Steel Corporation, and in senior level roles at Citibank/Citigroup. Kontos earned a B.A. in Political Science from Beloit College and an MBA in Finance from the University of Chicago.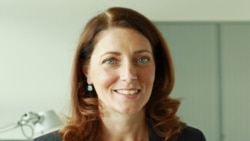 Stephanie Schmidt
Budget Director / Assistant Treasurer
Stephanie Schmidt has served as RFE/RL's Budget Director and Assistant Treasurer of the Corporation since 2016. Schmidt has twice served as Acting Chief Financial Officer, from September 2018 to February 2020, and for a 15-month term in 2015-2016. Schmidt joined RFE/RL in 2007, working in Prague in administrative and project management with the News Division, then transferring in 2011 to Washington as Budget Officer. Schmidt has managed RFE/RL's budget through such challenges as U.S. government shutdowns, sequestration, the forcible closures of RFE/RL operations in Azerbaijan and Pakistan, and the transfer of Radio Free Iraq, as well as the recent period of growth that has brought additional funding for new programming initiatives for Russia and its periphery. Before joining RFE/RL, Schmidt worked at various international NGOs and think-tanks and served as a Peace Corps volunteer in Kosice, Slovakia (1999-2001). Schmidt earned a B.A. in International Studies from American University, cum laude, and also holds a M.A. in Law and Diplomacy from the Fletcher School at Tufts University.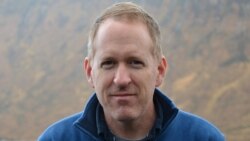 Benjamin Herman
Secretary and General Counsel
Benjamin Herman is RFE/RL's General Counsel and the Secretary of the Corporation. He graduated from Brown University in 1991 with a degree in Russian Studies, earned a Master's degree in Czech Language and Literature from UC Berkeley in 1994, and graduated from Stanford Law School in 1998. After receiving his law degree, Herman spent four years as an associate at the New York office of Sullivan & Cromwell before joining RFE/RL in 2002.
Tanya Youngberg
Assistant Secretary and Deputy General Counsel
Tanya Youngberg has served as RFE/RL's deputy general counsel and assistant secretary of the corporation since June 2022. Youngberg previously worked for eight years as a litigator at Williams & Connolly and clerked for two federal judges. She was a language analyst at the United States Department of Defense before her legal career. Youngberg holds a B.A. from Brown University in Slavic Studies and International Relations, an M.A. from Harvard University in Regional Studies (Russia, Eastern Europe, and Central Asia), and a J.D. from Yale Law School.
RFE/RL Board of Directors
As a private, nonprofit Sec. 501(c) 3 corporation chartered in Delaware, ​all major policy determinations governing Radio Free Europe/Radio Liberty's (RFE/RL) operations are made by RFE/RL's Board of Directors. Each member of the RFE/RL Board is required by federal law to have "requisite expertise in journalism, technology, broadcasting, or diplomacy, or appropriate language or cultural understanding" relevant to RFE/RL's mission. Employees of U.S. government agencies are prohibited by law from serving on the RFE/RL Board.​
Board Chair: Karen Kornbluh
Board Members: Jamie Fly, Jeffrey Gedmin, Margaret Hoover, Michael Kempner, Kristin Lord
RFE/RL's corporate officers
Jamie Fly, President and Chief Executive Officer
Daisy Sindelar, Vice President and Editor in Chief
Mark Kontos, Vice President and Chief Financial Officer (Treasurer)
Stephanie Schmidt, Budget Director (Assistant Treasurer)
Benjamin Herman, General Counsel (Secretary)
Tanya Youngberg, Deputy General Counsel (Assistant Secretary)
U.S. Agency for Global Media
RFE/RL, Inc. is a private, nonprofit corporation, funded by the U.S. Congress through the United States Agency for Global Media (USAGM), an independent federal government agency that oversees all U.S. civilian international media. Acting CEO Kelu Chao oversees all aspects of U.S. international media, providing day-to-day management of USAGM's operations.
Role of USAGM
In addition to providing oversight, the United States Agency for Global Media (USAGM) serves as a firewall to protect the professional independence and integrity of all U.S. international public service media, including Voice of America, Radio and TV Marti, and the non-profit corporations that are BBG grantees: Radio Free Asia, RFE/RL, and the Middle East Broadcasting Networks (MBN). USAGM also provides oversight of the work of the Open Technology Fund, which finances the development and distribution of cutting edge technologies and techniques to counter efforts by repressive regimes and closed societies to block access to objective news and information.