Vaclav Havel Journalism Fellowship
About the Fellowship
​The Vaclav Havel Journalism Fellowship (VHJF) is a joint initiative of RFE/RL and the Ministry of Foreign Affairs of the Czech Republic, generously supported by the Dagmar and Vaclav Havel Foundation Vize97. Launched in 2011, it is inspired by the late Czech leader's belief in the transformational power of free speech and builds on RFE/RL's legacy of promoting more open societies through journalism. More information about the Vaclav Havel Journalism Fellowship is available here.
2016 - 2017 Fellows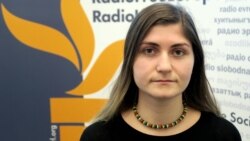 Salome Apkhazishvili, Georgia
Ms. Apkhazishvili is a journalist from Georgia who previously hosted a daily student talk show on the Georgian Institute of Public Affairs Radio (Radio GIPA). As a reporter for the Georgian Public Broadcaster in Tbilisi, Ms. Apkhazishvili focused on cultural heritage, urban planning, education systems, Georgian foreign affairs, and regional conflict in relation to ethnic and religious minorities. Ms. Apkhazishvili has a Masters in National and Ethnicity studies from Ivane Javakhishvili Tbilisi State University, and speaks Georgian, Russian, and English.
Stefan Grigorita, Moldova
Mr. Grigorița is a journalist from Moldova and was a political correspondent and data journalist for unimedia.info and agora.md. Mr. Grigorita also worked in multimedia at the Governmental Republican Centre for Children and Youth. He studied International Relations and Political Science at the State University of Moldova, and then continued his studies at the Chișinau School for Advanced Journalism. He speaks Romanian, Russian, English, and French.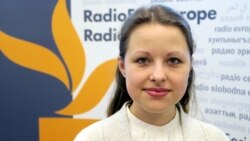 Ksenia Churmanova, Russia
​Ms. Churmanova was most recently a writer and editor for the Russian business magazine, Expert. Prior to this position she was a journalist for numerous broadcasting and online media outlets in Ekaterinburg and Saint Petersburg, reporting about social and economic issues. In addition to her regional journalism practice, Ms. Churmanova had an academic focus on international media democracy narratives within BRICS countries, and participated in the Academy of Finland's project, "Media Systems in Flux: the Challenge of the BRICS Countries." Ms. Churmanova received her B.A. from Ural Federal University, Ekaterinburg in Broadcast Journalism, and her M.A. from St. Petersburg State University School of Journalism and Mass Communications in Business Journalism. She speaks Russian and English.
Yaroslava Kutsai, Ukraine
​Ms. Kutsai has been focusing on social advocacy and identity issues, but more recently has gravitated towards environmental justice in the context of climate change. She started as a reporter for the Ukrainian TV station Kanal 5, then worked as a press officer for the National Ecological Centre of Ukraine and contributed feature stories for the Ukrainian edition of National Geographic. During the 2014 Ukrainian Revolution she cooperated with Iceland's national public service broadcaster and ran a column about propaganda on television for the Ukrainian magazine Week. For the last two years she has been based in Reykjavík, combining her studies with writing for Icelandic English language media as well as Ukrainian publications. She has a B.A. in Journalism from Taras Shevchenko National University of Kyiv, an M.A. in Journalism from the National University of Kyiv-Mohyla Academy, and an M.A. from the Environment and Natural Resources program at the University of Iceland. She speaks Ukrainian, Russian, and English.
About Vaclav Havel
​Vaclav Havel was the first post-revolutionary president of independent Czechoslovakia in 1989, and the first Czech president in 1993. He was also a renowned playwright, poet and essayist. Vaclav Havel's name is synonymous with peaceful resistance to authoritarianism and commitment to individual liberty and dignity. In his career as a writer and playwright, Havel established himself as Europe's most renowned dissident voice. During his time as president of Czechoslovakia and the Czech Republic, Havel used his position of influence to speak out as an unyielding advocate for democratic voices the world over. Long a listener and supporter of RFE/RL, Havel invited RFE/RL to take up residence in Prague in 1995, planting RFE/RL's headquarters in a city where its broadcasts were once banned.
Fellows pay tribute to Havel
Fellowship Projects 2016 – 2017
Salome Apkhazishvili (Georgia) examines the question of digital natives in her project. How do they evaluate information from the internet? What are the main challenges and threats related to disinformation and fake news for young people? What role does media literacy play in this issue?
Ksenia Churmanova (Russia) investigates the Transnistrian post-soviet generation, revealing what they think about the current state of the Pridnestrovian Moldavian Republic. What path does this generation consider the most appropriate for its homeland – being a part of Russia, a part of Moldova, or independent? Do they feel as attached to the Soviet Union as the previous generations who still live there with the USSR passports? Do they find themselves isolated there?
Yaroslava Kutsai (Ukraine) focuses on the right to water in Slovenia in her project. Slovenia is the first country in the European Union (and the 16th in the whole world) to enshrine the human right to water in their constitution. In order to prevent commercialization of the nation's water resources, the parliament adopted an amendment declaring that abundant clean supplies are "a public good managed by the state" and "not a market commodity."