RFE/RL's Balkan Service is a professional, inclusive, and reliable news source in a region where most outlets reflect ethnic divisions and media independence remains elusive.
Fast Facts
Languages: Albanian, Bosnian, Macedonian, Montenegrin, Serbian
Established: Bosnian, Serbian: 1994; Albanian to Kosovo: 1999; Montenegrin: 2000; Macedonian: 2001
Distribution: Radio (FM, satellite), TV, Internet (3 websites/6 languages, mobile, social media)
Coverage: Radio: 8,5 hours/day, Bosnian TV: 1 hour/week, Macedonian TV: 20 min/week, Kosovo TV: 10 min/week
Affiliates: 180 affiliate radio & TV stations in Macedonia, Kosovo, Serbia, Bosnia, and Montenegro
Locations: Prague, Belgrade, Podgorica, Pristina, Sarajevo, Skopje
Staff: 14 (Prague), 39 in local bureaus, and almost 90 correspondents and stringers
Media Environment
Freedom House Freedom of the Press Ranking, 2017: Partly Free Bosnia-Herzegovina (103/198), Kosovo (96/198), Macedonia (139/198), Montenegro (84/198), Serbia (98/198).
Reporters Without Borders World Press Freedom Index, 2017: Bosnia-Herzegovina 65/180, Kosovo 82/180, Macedonia 111/180, Montenegro 106/180, Serbia 66/180.
Highlights
RFE/RL's Balkan Service is the only news media that engages all sides in its coverage and debate in Bosnia, Serbia, Montenegro, Macedonia, and Kosovo.
The Service broadcasts a daily, 60-minute radio show through affiliates in Bosnia, Montenegro, and Serbia, focusing on political, economic, and social developments of regional interest.
In September 2016 the service introduced a new Facebook page called "Why?" which provides context and explanations for daily news stories. 75 percent of the page's fans are young people under 34.
In February 2016, RFE/RL Macedonian and VOA Macedonian introduced a new video project called "Horizons" to address stories related to Macedonian politics, extremism, and the refugee crisis. As pressure on the country's media grows, RFE/RL is the only international broadcaster operating on radio, TV, and web platforms.
"Under The Black Flag" is a sub-page of the RFE/RL Kosovo, dealing exclusively with subjects related to radical Islam, and in particular the recruitment of citizens in Kosovo by militants with the Islamic State group in Syria and Iraq.
The Service's most popular radio program, "Bridge" encourages dialogue and understanding by bringing together participants of diverse backgrounds. Host Omer Karabeg won the 2010 South East Europe Media Organization (SEEMO) award for promoting Better Understanding in South East Europe.
The Balkan service and the Communications Department host the Jiri Dienstbier Journalism Fellowship which, sponsored in partnership with the Czech Foreign Ministry, provides mentoring and support to aspiring journalists from the Western Balkans.
Updated: 1 August 2017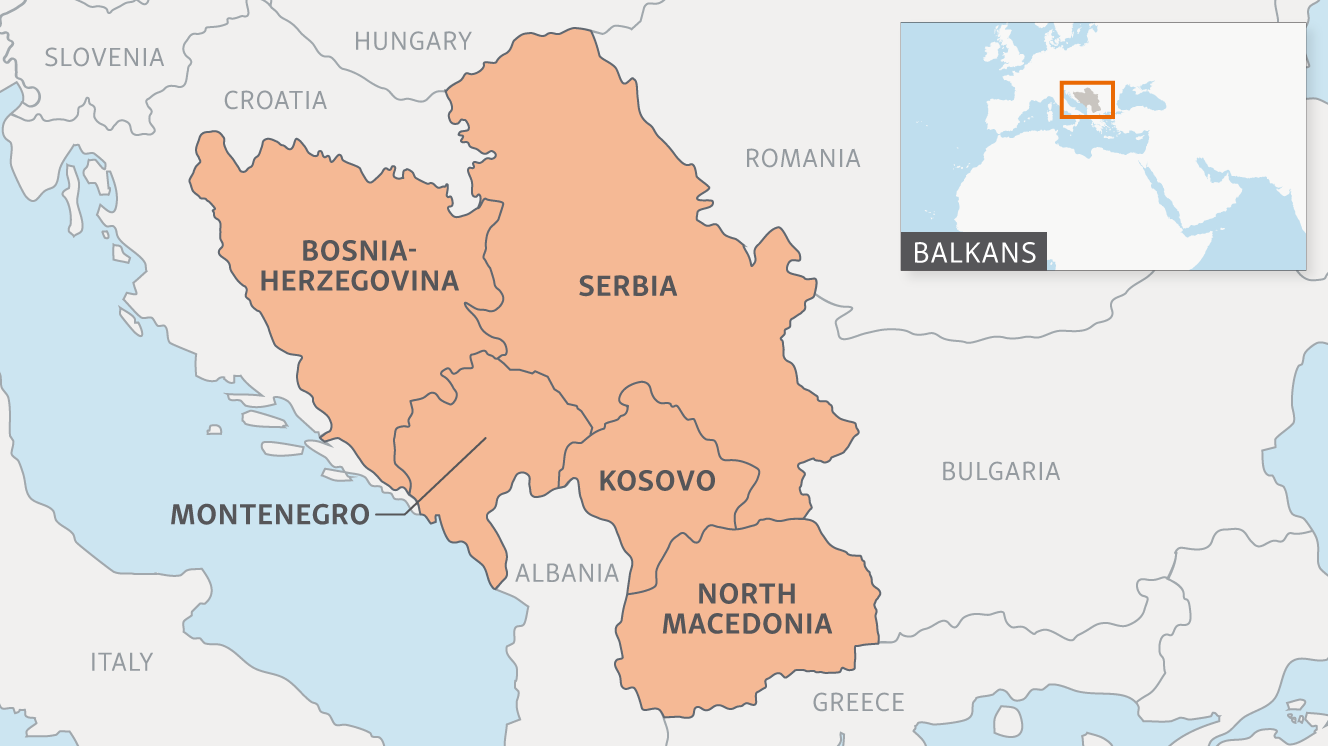 Facts & Stats about Bosnia and Herzegovina
Facts & Stats about Kosovo
Facts & Stats about Macedonia
Facts & Stats about Montenegro
Facts & Stats about Serbia
Follow Radio Slobodna Evropa
Follow Slobodna Evropa (MK)
Follow Radio Evropa e Lirë