RFE/RL's Balkan Service is a professional and balanced news source in a region where most outlets reflect ethnic divisions, and media ownership by political and financial interests compromises journalistic independence.
Fast Facts
Reporting for 28 years in partisan and ethnically divided media landscape, RFE/RL's Balkan Service has bureaus in Bosnia- Herzegovina, Kosovo, North Macedonia, Montenegro, and Serbia and is relied on for its coverage of economic issues, corruption, Russian influence, migration, and minority issues.
Countering disinformation and genocide denial is a cornerstone of Service's work. After Service contacted Google about how company allowed fake news about Srebrenica genocide, Google removed content denying the genocide in English search results.
A recent investigation on how pro-Nazi, white-power bands operate in Serbia.
Serbia's Prosecutor's Office for Cyber-Crime initiated an investigation into Telegram social media group "Z-Orlovi" following Balkan Service report on how it targets Russian citizens living in Serbia, but who are opposed to Russian's invasion of Ukraine.
A 2021 story on rotting placentas in Kosovo's hospital freezers won Best Web Story of the Year by Association of Journalists of Kosovo.
Belgrade correspondent Dusan Komarcevic among finalists for 2021 Annual Award for Investigative Journalism for investigation into "gamification" of extremist violence.
As host of the Jiri Dienstbier Journalism Fellowship with the Czech Foreign Ministry, Service trains and mentors aspiring journalists.  Reporters Without Borders' World Press Freedom Index ranks the region: Bosnia-Herzegovina (67/180), Kosovo (61/180), Montenegro (63/180), North Macedonia (57/180), and Serbia (79/180).
Impact
January – December, 2021
Website:

Balkan Service's regional website for Serbia, Bosnia-Herzegovina, and Montenegro and apps attracted 8.9 million visits, 13 million page views, and 3.8 million unique visitors.
North Macedonia Unit's website and apps registered 3.9 million visits, 4.8 million page views.
Kosovo Unit's website and apps had 4.9 million visits, 7.9 million page views.

Facebook: Service's six Facebook pages registered 46.1 million video views and 12.2 million engaged users in 2021.
Youtube: Balkan Service's regional YouTube channel has nearly 76,800 subscribers. 13.6 million video views in 2021.
Facts & Stats about Bosnia and Herzegovina
Population: 3.3 million (World Bank estimate, 2021)
Most Common Languages: Bosnian/Serbian/Croatian
Global Freedom Index (Freedom House): Partly Free, ranked 53 out of 100 (2021)
Press Freedom Index (RSF): 67 out of 180 (2022)
Corruption Index (Transparency Int.): 110 out of 180 (2021)
Global Peace Index (IES): 58 out of 163 (2022)
Human Rights Watch: Report on Bosnia (2020)
Amnesty International: Bosnia Report (2021)

Facts & Stats about Kosovo
Facts & Stats about North Macedonia
Population: 2.1 million (World Bank estimate, 2021)
Most Common Languages: Macedonian, Albanian, Turkish, Romany
Global Freedom Index (Freedom House): Partly Free, ranked 66 out of 100 (2021)
Press Freedom Index (RSF): 57 out of 180 (2022)
Corruption Index (Transparency Int.): 111 out of 180 (2020)
Global Peace Index (IES): 36 out of 163 (2022)
Amnesty International: Macedonia Report (2021)
Facts & Stats about Montenegro
Population: 0.62 million (World Bank estimate, 2021)
Languages: Montenegrin, Serbian, Bosnian, Albanian, Croatian
Global Freedom Index (Freedom House): Partly Free, ranked 63 out of 100 (2021)
Press Freedom Index (RSF): 63 out of 180 (2022)
Corruption Index (Transparency Int.): 64 out of 180 (2021)
Global Peace Index (IES): 48 out of 163 (2022)
Amnesty International: Montenegro Report (2021)
Facts & Stats about Serbia
Population: 6.84 million (World Bank estimate, 2021)
Most Common Languages: Serbian, Hungarian, Bosnian, Romany
Global Freedom Index (Freedom House): Partly Free, ranked 64 out of 100 (2021)
Press Freedom Index (RSF): 79 out of 180 (2022)
Corruption Index (Transparency Int.): 96 out of 180 (2021)
Global Peace Index (IES): 52 out of 163 (2022)
Human Rights Watch: Report on Serbia (2020)
Amnesty International: Serbia Report (2021)
Updated: October 2022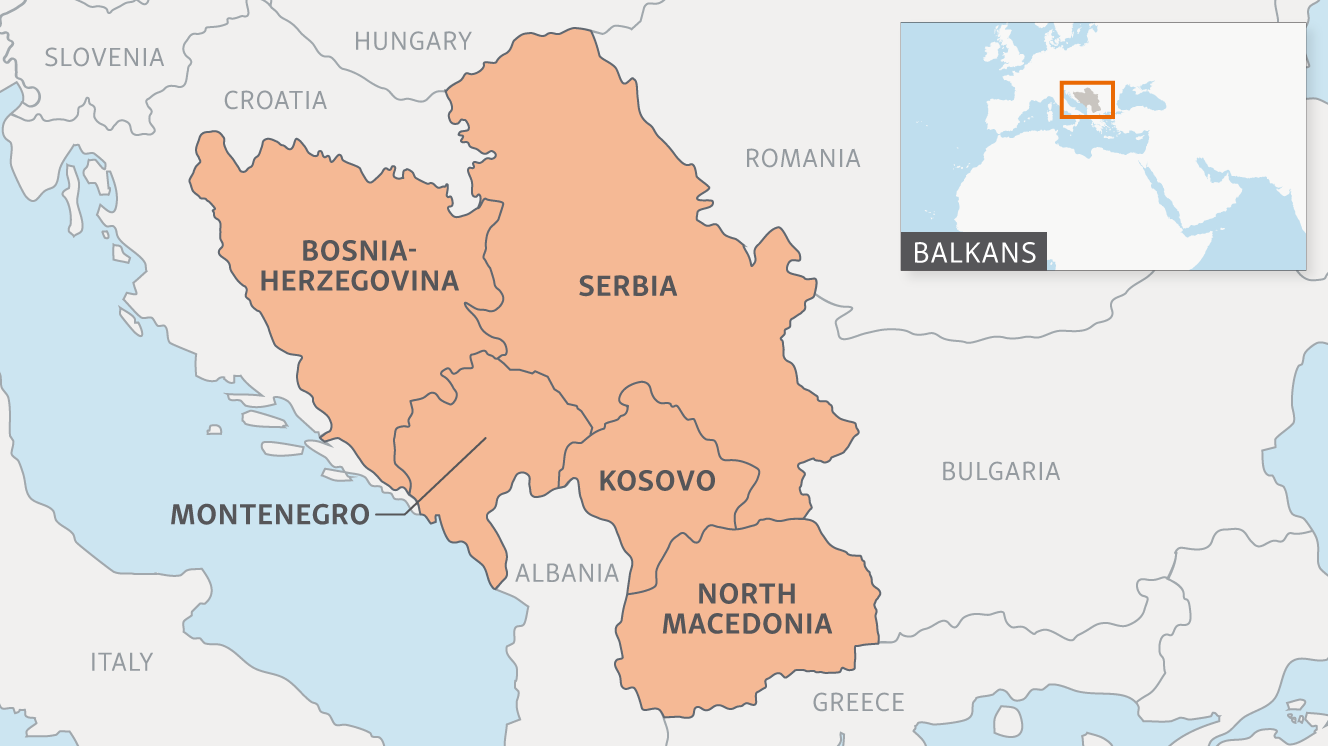 Follow Radio Slobodna Evropa
Follow Slobodna Evropa (MK)
Follow Radio Evropa e Lirë