RFE/RL's Balkan Service is a professional and balanced news source in a region where most outlets reflect ethnic divisions, and media ownership by political and financial interests compromises journalistic independence.
Fast Facts
In 2019, the Balkan Service marked 25 years of reporting in one of the world's most contested regions, championing professionalism and moderation in a media landscape that is sharply divided along ethnic and partisan lines.
With bureaus in Bosnia-Herzegovina, Kosovo, Macedonia, Montenegro, and Serbia, it is relied on foremost for its balanced, local coverage of politics, economic issues, corruption, Russian influence, migration, and minority issues.
The Service's digitally forward strategy seeks to engage the region's younger audiences with programs like "Next Generation Influencers" in Serbia, Montenegro, and Macedonia that respond to Russian disinformation. "Raise Your Voice" and the Facebook page "Not In My Name" help young audiences in Bosnia and Kosovo confront extremism and radicalization.
In its 2017 Freedom of the Press survey, Freedom House ranked the region as follows: Partly Free: Bosnia-Herzegovina (103/198), Kosovo (96/198), Montenegro (84/198), and Serbia (98/198). Not Free: Macedonia (139/198).
The Balkan Service's award-winning journalists include Milan Nešić, who in 2018 received the Independent Journalists' Association of Serbia's award for Excellence in Investigative Journalism for his story about embezzlement in the construction industry in Belgrade. Sarajevo-based photographer Midhat Poturovic won first place in the 2018 BETA News Agency Photograph of the Year competition for best media photo in South East Europe.
The Balkan Service hosts the Jiri Dienstbier Journalism Fellowship in partnership with the Czech Foreign Ministry to train and mentor aspiring journalists in the western Balkans.
Impact
January – December, 2019
Website: In 2018 the Balkan Service's regional website for Serbia, Bosnia-Herzegovina, and Montenegro (slobodnaevropa.org) and apps attracted 6.1 million visits, 10.2 million page views, and 3.8 million unique visitors. The Macedonia Unit's website (slobodnaevropa.mk) and apps registered 3.9 million visits, 5 million page views, and 2.0 million unique visitors. The Kosovo Unit's website (evropaelire.org) and apps had 3.8 million visits, and 6.1 million page views.
Facebook: The Service's six Facebook pages registered 43.6 million video views and 7.2 million engaged users in 2019.
Youtube: The Balkan Service's regional YouTube channel has nearly 50,000 subscribers. In 2019 it registered 14.5 million video views.
Facts & Stats about Bosnia and Herzegovina
Population: 3.3 million (World Bank estimate, 2019)
Most Common Languages: Bosnian/Serbian/Croatian
Global Freedom Index (Freedom House): Partly Free, ranked 53 out of 100 (2020)
Press Freedom Index (RSF): 58 out of 180 (2020)
Corruption Index (Transparency Int.): 111 out of 180 (2020)
Global Peace Index (IES): 79 out of 163 (2020)
Human Rights Watch: Report on Bosnia (2020)
Amnesty International: Bosnia Report (2021)

Facts & Stats about Kosovo
Facts & Stats about North Macedonia
Population: 2 million (World Bank estimate, 2019)
Most Common Languages: Macedonian, Albanian, Turkish, Romany
Global Freedom Index (Freedom House): Partly Free, ranked 66 out of 100 (2020)
Press Freedom Index (RSF): 90 out of 180 (2021)
Corruption Index (Transparency Int.): 111 out of 180 (2020)
Global Peace Index (IES): 62 out of 163 (2020)
Amnesty International: Macedonia Report (2021)
Facts & Stats about Montenegro
Population: 0.62 million (World Bank estimate, 2019)
Languages: Montenegrin, Serbian, Bosnian, Albanian, Croatian
Global Freedom Index (Freedom House): Partly Free, ranked 63 out of 100 (2020)
Press Freedom Index (RSF): 104 out of 180 (2021)
Corruption Index (Transparency Int.): 67 out of 180 (2020)
Global Peace Index (IES): 69 out of 163 (2020)
Amnesty International: Montenegro Report (2021)
Facts & Stats about Serbia
Population: 6.94 million (World Bank estimate, 2019)
Most Common Languages: Serbian, Hungarian, Bosnian, Romany
Global Freedom Index (Freedom House): Partly Free, ranked 64 out of 100 (2020)
Press Freedom Index (RSF): 93 out of 180 (2021)
Corruption Index (Transparency Int.): 94 out of 180 (2020)
Global Peace Index (IES): 51 out of 163 (2020)
Human Rights Watch: Report on Serbia (2020)
Amnesty International: Serbia Report (2021)
Updated: March 2020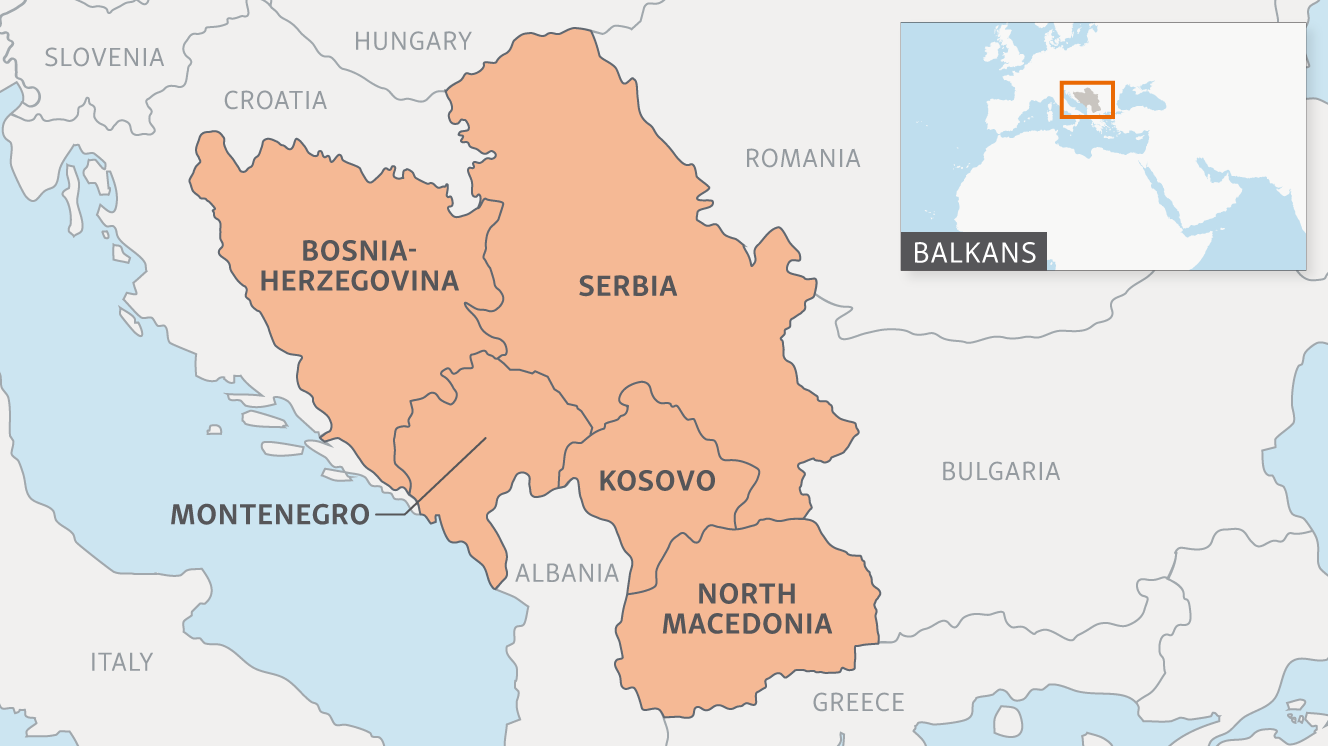 Follow Radio Slobodna Evropa
Follow Slobodna Evropa (MK)
Follow Radio Evropa e Lirë